During the summer season, most of us are going to a barbeque, picnic or pool party at some point.  Menu choices most commonly involve grilling and the side dishes usually include the traditional potato salad, macaroni salad and cole slaw.  Don't get me wrong–I don't mind a good potato salad every now and then, but there are some draw backs to the old fashioned recipe.  First of all, it's loaded with fat and calories.  Plus, if you're enjoying your party outdoors, be very careful as it's mayo-based and you must take extra care to ensure it stays at a safe temperature (which is not always easy to do during those hot summer days).  While the traditional can be a good thing, this is a case where you can improve upon something good and make it better.  I've collected some fresh recipes that take a lighter approach to these summer favorites and even add in a few extra twists that will surprise you.
Potato and Green Bean Salad uses a base of olive oil, lemon juice and whole grain mustard as its dressing, so you'll fret a little less about it spoiling than the mayo-based version.  The addition of sliced red onion and chopped thyme leaves add even more flavor to this wonderful dish.  I also love that you'll use in-season green beans, making it even healthier!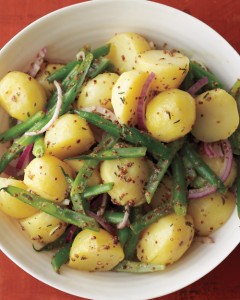 Photo courtesy of What 2 Cook
5-Ingredient Pasta Salad is a great alternative to basic macaroni salad.  This recipe calls for whole wheat pasta (you can use penne or rotini), arugula, basil pesto (pre-made or make it yourself if you prefer), a jar of roasted red peppers and fresh mozzarella.  Refrigerate and keep cool (even though this does not have mayonnaise, you'll still want to be careful if serving outdoors due to the cheese in the dish).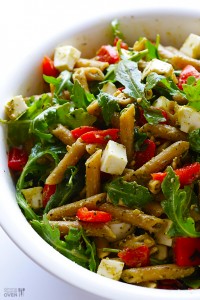 Photo courtesy of Gimme Some Oven
Once you make Apple and Poppyseed Cole Slaw you'll never go back to the traditional recipe again.  This recipe combines green and red cabbage, carrot and Granny Smith apple with a tangy dressing made from olive oil, apple cider vinegar, lemon, poppy seeds and just a bit of mayonnaise.  It's light and refreshing with plenty of crunchy veggies!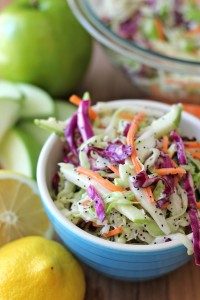 Photo courtesy of Damn Delicious
Corn on the Cob is another popular summertime side dish, so Chili Lime Sweet Corn Salad is sure to be a hit at your next gathering.  This recipe is simple, relying on the sweet flavor of the fresh corn, enhanced with some butter, lime juice, chili powder, cilantro and crumbled queso fresco (soft Mexican cheese).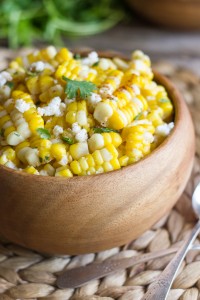 Photo courtesy of Lovely Little Kitchen
Enjoy these lighter options for side salads at your next summer outing and I'll return next week with some ideas for summer melons.
See all posts