Cole slaw is a popular side dish, especially at summer month gatherings like picnics and barbeques.  The traditional recipe uses shredded cabbage and a dressing made from mayonnaise, vinegar, sugar, and spices.  It works well, but the mayonnaise base can carry a lot of fat and calories.  I've collected a few other options that not only lower the calorie and fat content, but also add some variety of veggies to the recipe.
Crunchy Asian Slaw with Peanut Dressing uses a bag of broccoli slaw, shredded red cabbage, thinly sliced red bell pepper, sliced radishes, sliced red onion, shelled edamame, chopped cilantro, and sunflower seeds.  The dressing is made from creamy peanut butter, rice vinegar, soy sauce, olive oil, sesame oil, honey, and chili garlic paste.  This slaw is packed with a combination of flavors and textures.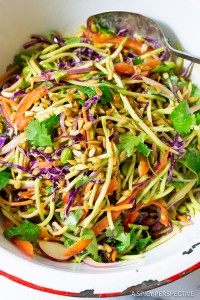 Courtesy of A Spicy Perspective
Southwest Slaw has a little kick to it.  Finely shredded green cabbage, fresh corn, fresh jalapeno, thinly sliced red bell pepper, and chopped fresh cilantro provide the base of this slaw.  You'll cook the corn and jalapeno in a cast iron skillet until charred on all sides. Scrape the skin from the jalapeno and discard the seeds, then mince.  Combine all ingredients in a bowl.  For the dressing you'll whisk together fresh lime juice, honey, garlic, cumin, salt, and pepper.  Pour over the slaw mix and stir together.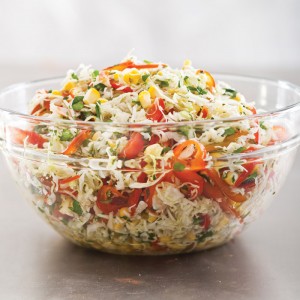 Courtesy of Taste of the South Magazine
If you really love the traditional coleslaw recipe, try this Clean Eating Coleslaw, as it uses Greek Yogurt in place of the usual mayonnaise base.  You'll need shredded red cabbage, shredded green cabbage, and shredded carrots.  Your dressing is made from Greek yogurt, water, apple cider vinegar, maple syrup, olive oil, coriander, salt, and pepper.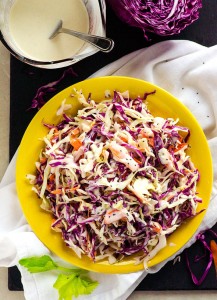 Courtesy of ifoodreal
I'm back next Monday with a look at tomatillos and some great recipes for this flavorful veggie.
See all posts