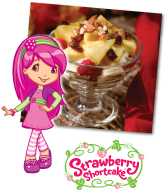 Preparation Time: 15 minutes
Serves: 4
Cups of Fruits and Vegetables per Serving: ½
Ingredients:

2 cups canned pineapple tidbits or chunks in 100% fruit juice, drained
1 cup (1/2 pint) raspberries (fresh or frozen)
1 cup low-fat vanilla yogurt
1 medium banana, sliced
1/3 cup dates, chopped
1/4 cup granola

Preparation*:
Layer the pineapple, raspberries, yogurt, banana, and dates in parfait glasses. Sprinkle the granola on top and serve.
Each serving provides: An excellent source of vitamin C and fiber, and a good source of calcium and potassium.
Nutrition Information per Serving:
Calories: 206
Total Fat: 1.5g
Saturated Fat: 0.6g
% of Calories from Fat: 6%
% Calories from Saturated Fat: 3%
Protein: 5g
Carbohydrates: 48g
Cholesterol: 3mg
Dietary Fiber: 5g
Sodium: 52mg
*Only make with the help of an adult!

Take the Pledge: Eat MORE Fruits & Vegetables!
Fruit & Vegetable Recipe Search
Fruit & Vegetable Nutrition Database
How Many Fruits & Vegetables You Need?
Ask The Expert about Fruits & Vegetables