Love pancakes?  Then this week is definitely for you as it's National Pancake Week!  While most of us think of these little griddle cakes as a traditional breakfast meal, mainly made with flour, eggs, sugar and milk, you can now find healthier recipe versions filled with fruit, veggies, whole grains and protein.  Here are a few delicious choices to try:

Whole Wheat Pumpkin Pancakes are packed with fall flavors, but enjoy them any time of the year.  Whole wheat flour, spices, pumpkin puree, vanilla, milk and a bit of brown sugar are combined to create these fluffy pancakes.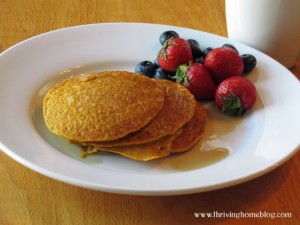 Photo courtesy of Thriving Home

If you're looking for a pancake that is the equivalent of a well-rounded breakfast, you've found it with this recipe for Blueberry Oatmeal Yogurt Pancakes.  Packed with goodness, these pancakes are made with old-fashioned rolled oats, Greek yogurt and fresh blueberries.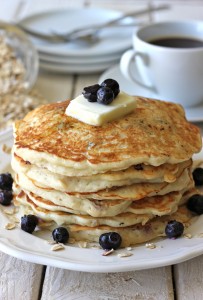 Photo courtesy of Damn Delicious
This recipe for Apple Cinnamon Pancakes are a great gluten-free option.  They are made with eggs, mashed banana, diced apple, almond butter and spices.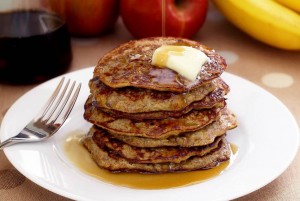 Photo courtesy of Paleo Newbie

Finally, who says pancakes have to be limited to breakfast?  These Zucchini and Carrot Pancakes with Basil Chive Cream make a delicious appetizer or side dish.  The pancakes are made from grated zucchini and carrots, almond flour and egg whites.  The basil cream is made by using low-fat sour cream or Greek yogurt, fresh basil and fresh chives.  I'm thinking this is another way to use the abundance of fresh zucchini from the garden in the summer.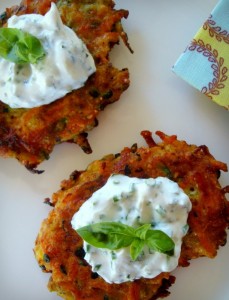 Photo courtesy of Good Dinner Mom

Enjoy these recipes and try adding some healthy options like fruit (bananas, berries, applesauce) to your own pancakes recipes.  I'll be back next week with a look at one of 2015's superfoods–nuts.

See all posts