Pomegranates have been touted as a super food and for good reason–this fruit is low in fat, cholesterol free, sodium free, an excellent source of fiber, Vitamins C and K, a good source of potassium, folate, and copper (See Nutrition Info). Pomegranates are actually a berry and when opened, the fruit contains hundreds of seeds that are surrounded by a translucent flesh, both of which are edible.  During the holiday season you see pomegranates more frequently.  Partly because they are in season and partly because of their festive red color.  There are many ways to enjoy pomegranates–eat the seeds raw, add them to salads, or juice them are the most popular ways.  I collected a few recipes featuring pomegranates that are perfect for the winter season.
Pomegranate, Kale and Wild Rice Salad with Walnuts and Feta is a festive holiday salad you'll want to add to your table.  Baby kale, wild rice, pomegranate seeds, feta cheese and toasted walnuts make up this fiber-packed, nutritious salad.  The dressing is made from minced shallots, lemon juice, apple cider vinegar, olive oil and honey.  This is a recipe you'll mark as a favorite.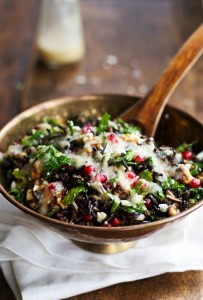 Photo courtesy of A Pinch of Yum
Cranberry and Pomegranate Bruschetta is as pleasing to the palate as it is to the eye.  You'll begin by making a cranberry pomegranate relish with fresh cranberries, pomegranate seeds, ginger, cilantro, Sriracha sauce, orange zest, honey, and some sugar.  Add this to a toasted baguette topped with cream cheese.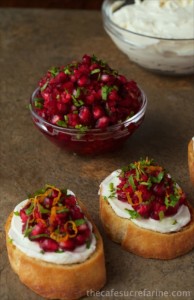 Photo courtesy of The Café Sucre Farine
Pomegranate Orange Salad is another dish that is perfect for the holiday or ideal for the winter season.  It's packed with in-season produce and bursting with healthy fruit and veggies like arugula, oranges, pomegranates, slivered almonds, and avocado.  It's topped with crumbled feta cheese and a homemade dressing containing honey, orange zest, vinegar, olive oil, and spices.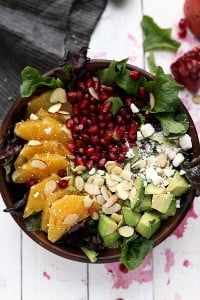 Photo courtesy of Chelsea's Messy Apron
I hope these recipes help you add pomegranates to your table this holiday season.  If you plan to host a holiday party this year, join me next week for some festive appetizer ideas.
See all posts