October is National Pasta Month and that's reason for me to celebrate since my favorite comfort food (by far!) is pasta.  Ever since I was a little girl, my all time favorite dish was spaghetti and meatballs.  It brings back memories of Sunday dinners with family and I still use Sundays to cook up a big pot of tomato gravy for my family.  Pasta is really very versatile, as it can be combined with a variety of other things like meats, seafood, or, as I'll show you, fruit and vegetables to create a flavorful and healthy meal.
Brown Butter Spaghetti with Baby Kale and Roasted Butternut Squash is perfect for the fall season.  I love pasta dishes like these, which are simple in that they combine a few flavors that complement one another.  This recipe includes cubed butternut squash, minced garlic, sliced onion, baby kale, sliced chives (for serving), butter and olive oil, Romano cheese, parmesan cheese, pasta and salt/pepper to taste.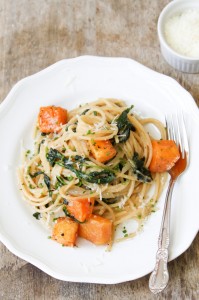 Photo courtesy of The Little Epicurean
Garden Veggie and Ravioli Skillet will satisfy your craving for a heartier pasta dish.  This recipe is loaded with veggies such as asparagus, corn, red bell pepper, zucchini, yellow squash, and cherry tomatoes.  The sauce is made from roasted pistachios, finely chopped, unsalted butter, fresh herbs (thyme, basil and oregano), minced garlic, lemon zest and juice, grated parmesan, and salt/pepper to taste.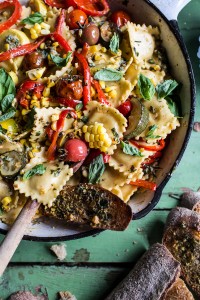 Photo courtesy of Half Baked Harvest
Roasted Vegetable Lasagna is a lighter and healthier version as it contains plenty of veggies, which reduces the amount of cheese you need to use.  You'll roast acorn squash, zucchini, and eggplant for layering.  Then you'll also add spinach into the cheese mixture.  In addition, this recipe has you make your own Marinara sauce (don't worry–its not difficult and you'll be hooked on the fresh flavor!).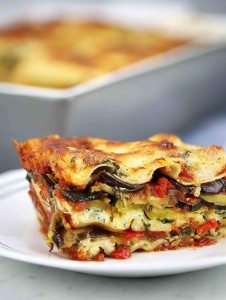 Photo courtesy of Eat Drink Binge
Another favorite is this recipe for Rustic Garlic Butter Pasta with Roasted Broccoli and Mushrooms.  What's especially terrific about this recipe is you can make it in a half hour.  It's a perfect weeknight dish (think Meatless Monday)–simply add a salad and you're set.  The ingredients include whole wheat penne pasta, chopped fresh broccoli, sliced mushrooms (fresh), minced garlic, butter, olive oil, dried Italian herbs, parmesan cheese (for topping), and salt to taste.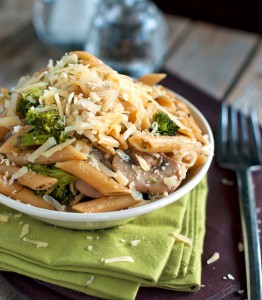 Photo courtesy of Pinch of Yum
I hope you enjoy these recipes and I'll return next week with a look at the new popularity of braising as a cooking method, along with some delicious recipes.
See all posts