Pineapples are a favorite because of their sweet flavor and versatility in recipes.  You can just as easily use them in a dessert as you can as a topping to a fish or chicken entrée.  Important to note, is how nutritious pineapples are–they are naturally fat free, cholesterol free, very low in sodium, and high in vitamin C.  It just so happens that pineapples are easily available year-round, but Caribbean grown pineapples are in season December though February (and again August through September), while Hawaiian grown pineapples come into season during April and May.
Pineapple puts a sweet twist in this version of spinach salad.  Pineapple Spinach Salad uses fresh spinach, fresh pineapple chunks, feta cheese, and toasted, sugared pecans for the base.  A dressing is made from olive oil, white wine vinegar, garlic, dry mustard, sugar, salt, and pepper.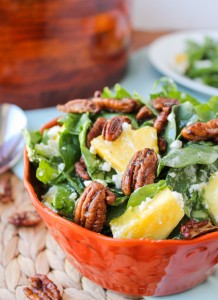 Courtesy of The Food Charlatan
Easy Pineapple Fried Rice is vegan and gluten free.  Once you try this recipe, you'll never want take-out again!  Cooked rice, fresh or canned pineapple chunks, minced garlic, diced red onion, grated fresh ginger, chopped green onion, diced carrots, red chili pepper flakes, and soy sauce are what give this dish its amazing flavor.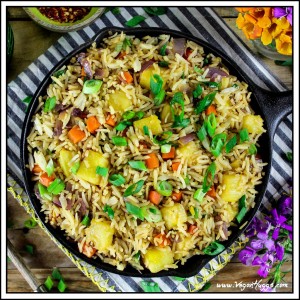 Courtesy of Vegan Huggs
This Healthy Pineapple Smoothie is perfect for breakfast or as a snack.  It's packed with fresh pineapple, banana, Greek yogurt, ice, and pineapple juice.  Make this delicious drink in 5 minutes.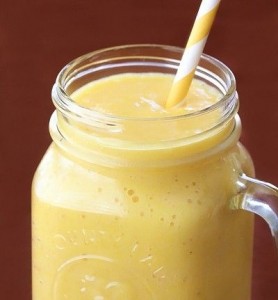 Courtesy of My Fridge Food
Need more ideas for using pineapple?  Fruits & Veggies–More Matters has their Top 10 Ways, which includes a salsa recipe and pineapple slaw.  I'm back next week with some ways to use frozen fruit and veggies in your recipes.
See all posts