Now that the weather is getting warmer (finally!), we can start spending more time outdoors.  One way to enjoy all beautiful spring blooms is by spending an afternoon in your local park.  Many of the parks in my area have walking trails, basketball courts and playgrounds so you can really make a day of your visit.  In order to really enjoy yourself, pack a picnic lunch so you won't go hungry and also won't be tempted to visit that pesky ice cream trunk that's always so conveniently parked nearby.  Plus, it's a great family activity!
The key to packing a great picnic lunch is making sure it's portable and trying to stay away from things that can go bad quickly.  I try to avoid mayo-based salads since, if left out too long, they tend to go bad faster than other foods.  Of course I'm always looking to keep it healthy, while making sure it's delicious.  I've done some research and found fun recipes that are perfect for taking along on a picnic lunch.  Let's start with these Veggie Bars.  They remind me of a nutritious version of those decadent 7-layer dessert bars, but these are actually good for you.  You start with crescent rolls as the base and bake them.  Blend mayonnaise (I use light) and cream cheese (again, I use reduced fat) with some ranch dressing mix.  Spread on top of the crescent rolls and top with your favorite chopped veggies like red bell pepper, tomato, broccoli flowerets, grated carrot, olives, mushrooms, etc.  Cut these into bite-sized bars and they make awesome appetizers or snacks.  Since this recipe does contain mayonnaise and cream cheese, you'll want to pack it in a cooler and keep it on ice rather than leave it out.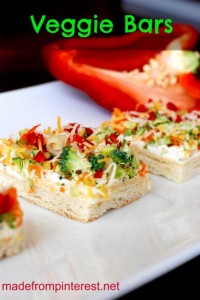 Photo courtesy of Mandy's Recipe Box
A salad is always a great addition to any picnic.  However, you really don't want to lug along a bowl of salad and then bother with mixing it and dishing it out, do you?  Instead, try assembling the salads ahead of time in plastic cups with lids as shown below.  Select your favorite salad ingredients like healthy greens, tomatoes, celery, mushrooms, onion, radishes, cucumber, bell pepper and add some protein like lean ham or turkey, low-fat cheese or some seeds/nuts.  Just leave a little room at the top and you can bring along the dressing to add right before serving.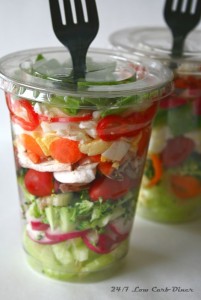 Photo courtesy of 24-7 Low Carb Diner Blog
I like the idea of serving wraps as a sandwich choice because they are easy to handle–they won't fall apart and are great for transporting.  This Cucumber Ranch Turkey Wrap is a nice change from the usual ham and cheese choice.  Again, because it uses some cream cheese in the recipe, be sure to keep it on ice in your cooler until serving to prevent it from spoiling.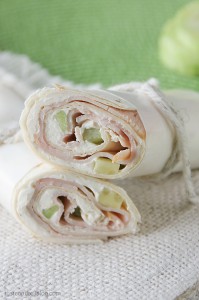 Photo courtesy of Taste and Tell
What would a picnic be without something sweet?  Here is a spectacular idea for fresh fruit–cut up some fresh fruit (right now you can find berries are starting to come into season!) and pack them into a airtight container on ice.  Also pack some waffle cones and then when it's time for dessert, spoon the fresh fruit into the waffle cones.  Sweet, nutritious and a hit all the way around!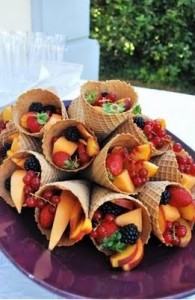 Photo courtesy of FrostMeBlog
I hope you try some of these fun ideas on your next picnic or at your next cookout.  I'll be back next week with a few ideas for guilt-free appetizers.
See all posts