Green beans, also known as string beans, are a popular veggie in the United States.  They are available year round, but especially plentiful in spring and summer.  Green beans are one of only a few varieties of beans that can be eaten fresh (most beans are dried, such as black beans and garbanzo beans).  In addition to their fresh flavor, green beans are a healthy addition to your diet.  They are fat free, sodium free, cholesterol free, low in calories, a good source of fiber, and a good source of Vitamin C.  Green beans are terrific simply steamed as a side dish or added to a veggie stir fry, but I've collected some interesting recipes featuring this versatile vegetable you'll want to try.
Fresh Green Bean Salad with Balsamic Dressing works well as a side dish and can also replace your usual green salad.  Fresh green beans, grape tomatoes, feta cheese and a dressing made from olive oil, lemon juice, balsamic vinegar, garlic powder, salt, and pepper are combined.  You can also add some crumbled bacon to this dish if you choose.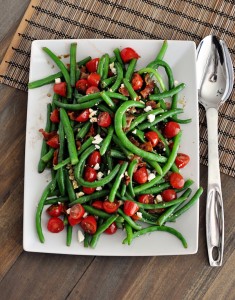 Courtesy of Mel's Kitchen Café
Garlic Green Beans and Portobellos with Parmesan is a simple dish with minimal ingredients that's easy to prepare.  Boil fresh green beans for two minutes, drain, and set aside.  Heat two tablespoons of canola oil in a skillet and add four sliced Portobello mushrooms to the heated oil.  Cook until browned, about 8 minutes.  Add green beans and minced garlic to mushrooms; season with salt and pepper to taste.  Sprinkle with parmesan right before serving.

Courtesy of The Wicked Noodle
One of the most popular green bean dishes is green bean casserole.  It almost always shows up on holiday tables.  So, you will be happy that I've found this recipe for Healthier Green Bean Casserole that tastes as decadent as the original, but is a lightened up version.  You'll make your own mushroom sauce with fresh mushrooms (no using canned mushroom soup in this recipe) and the crispy onion topping is created by cooking thinly sliced onion and combining them with Panko breadcrumbs and parmesan cheese.  Of course the foundation of this recipe will be fresh green beans.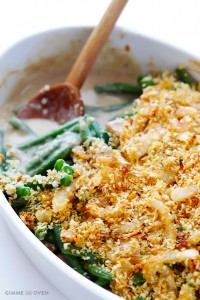 Courtesy of Gimme Some Oven
For great comfort food, Michael Marks, Your Produce Man, has a recipe for Southern Style Green Beans that includes white onions and bacon.  Enjoy these dishes and I'll be back next week with some ideas on how you can use fruit and veggies to dress up your table.
See all posts