A Pot Luck Supper is the perfect way to get family or friends together where everyone pitches in on the menu and no one person is stressed with doing everything.  The host/hostess organizes the party by inviting guests and providing the location, as well as a main dish.  He or she also keeps track of what other guests are bringing so you don't have too many desserts or salads, etc.  The whole idea behind a Pot Luck Supper is gathering everyone for an evening together.  It's casual and fun.  Here are a few tips to keep in mind to make your event a success:
Ask guests to sign up for specific dishes.  As I mentioned, you don't want too many desserts or salads, so ask your guests to sign up for appetizers, salads, desserts, dinner rolls, or a main dish.
Label dishes.  You can purchase simple tent cards and write something simple like, "Lisa's Famous Pasta Salad" on the card.  This way everyone knows what each dish is and can choose according to tastes, allergies, etc.
Assemble your serveware ahead of time.  Not all of your guest will remember to bring serveware with them, so be ready with your own, just in case.
Have containers ready for leftovers.  Leave it up to the person who made the dish as to what he/she wants to do with the remaining food, but be sure to have disposable plastic containers so that the food can be divided up if there are leftovers.
Consider a theme.  If you're hosting a pot luck around the first week in May, you might want to think about a Mexican theme in honor of Cinco de Mayo.  If it's around Memorial Day, consider a beach theme in honor of summer.  Be creative.
Traditional dishes that usually show up to Pot Luck Suppers are recipes that include cheesy casseroles, cakes, and Jell-O salads.  Let's rethink this idea.  I've pulled some fresh recipes that are much more appealing and a lot healthier than their old fashioned cousins.
Potato Salad with Green Beans and Asparagus is particularly good this time of year with both green beans and asparagus at their peak of flavor.  You'll also add red onion, parsley and some walnuts to the recipe.  A dressing is made from olive oil, red wine vinegar, Dijon mustard, and garlic.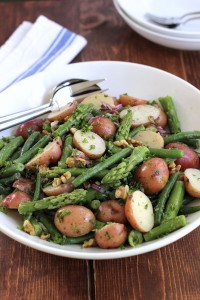 Courtesy of Green Valley Kitchen
Deviled eggs are a popular dish at these events.  Deviled Avocado Eggs takes the traditional recipe to new heights.  A large avocado replaces the mayonnaise in this recipe.  You'll also add lime juice, cilantro, garlic powder, salt, and pepper.  Sprinkle a bit of paprika on top.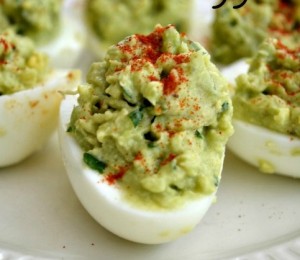 Courtesy of To Simply Inspire
Seven Layer Salad with Creamy Salsa Vinaigrette is a guilt-free version of the traditional recipe that uses a layer of cheese and mayonnaise.  This salad packs in the flavor with red onion, bell pepper, black beans, corn kernels, fresh herbs like cilantro, dill, and basil, chopped avocado, and sliced green olives.  The dressing is made from Greek yogurt, salsa, apple cider vinegar, olive oil, chili powder, cilantro, and green onions.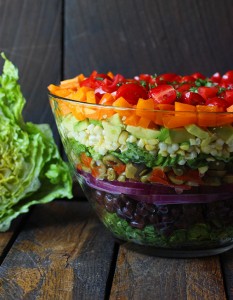 Courtesy of Soup Addict
Baked Chicken with Spinach and Artichokes is a great main entrée option.  You'll use boneless, skinless chicken breasts, frozen artichoke hearts, frozen spinach, chopped shallots, minced garlic, and a sauce made from Greek yogurt, mayonnaise, Parmesan cheese, and mozzarella cheese (feel free to use the reduced fat version).  You'll bake the chicken alone for about 15 minutes in a 375 degree oven and then add the remaining ingredients to the chicken.  Continue baking for 20-25 minutes and let cool for about 5 minutes before serving.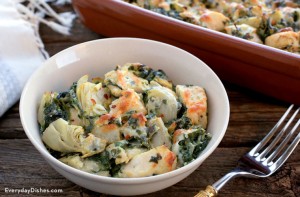 Courtesy of Everyday Dishes
Enjoy and I'll be back next week with some fresh recipes featuring green beans.
See all posts