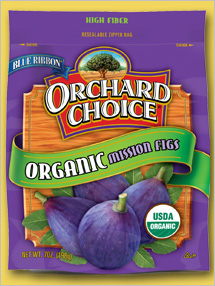 Valley Fig Growers has introduced Blue Ribbon Orchard Choice Organic Mission Figs in response to the growing interest in organic fruits. Grown by California farmers who follow earth-friendly growing practices and certified organic by the USDA and the California Certified Organic Farmers.
Dried Mission Figs are sweet, moist and supply 5 grams of fiber per serving of four figs. They make the perfect healthful snack to keep on hand in your desk, backpack, car or out on the counter.
Add figs to whole grain dishes, toss in salads, sprinkle on cereal, or enjoy in easy-to-prepare recipes from valleyfig.com. Re-sealable, stay fresh bag keeps fruit moist for up to 6 months. No refrigeration necessary—organic Mission figs go where you go!