By the end of August, your vegetable garden output has slowed down considerably with one or two exceptions.  Tomatoes are one of those crops that continue to provide us with beautiful fruits of summer, typically through most of September in many parts of the country.  And, if you've had a homegrown tomato right off the vine, you know there's nothing quite like it.  Aside from their wonderful flavor, there's also health benefits–one medium tomato is a great source of Vitamins C and A, potassium, fat free, cholesterol free, low in sodium and low in calories.
Taking advantage of fresh tomatoes can be done in many ways–from making homemade tomato sauce, to adding them to your nightly green salad.  I've pulled together a few recipes that really highlight their sweet flavor, which I think you'll enjoy right now while they are at their peak.  I'll start with something simple, but it's a salad that really reminds me of a side dish my mom used to make with tomatoes from my dad's garden.  Tomato and Sweet Onion Salad uses few ingredients–tomatoes, onion, fresh mint leaves, fresh lemon juice, olive oil, garlic powder, salt and pepper to taste.  This is easy enough to prepare for a weeknight side dish or beautiful enough to bring along to a picnic or cookout.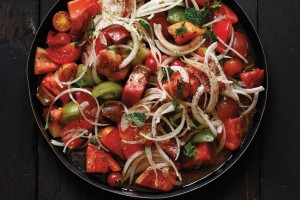 Photo courtesy of Jason Varney
Balsamic Roasted Tomatoes are another simple, yet incredibly delicious recipe.  The wonderful thing about using tomatoes when they are in season and fresh off the vine is they are so flavorful.  This recipe calls for minced garlic, olive oil, balsamic vinegar, chopped herbs like basil, thyme or oregano, a bit of sugar, and salt/pepper to taste.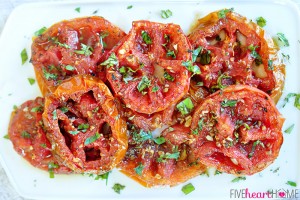 Photo courtesy of Five Heart Home
Tomato, Peach and Burrata Salad combines two summer favorites in one incredible salad.  Only five ingredients come together–tomatoes, peaches, Burrata cheese (it's an Italian cheese), balsamic vinegar and basil.  It once again proves that when using fresh, in-season produce, you need very few ingredients to make your dish delicious!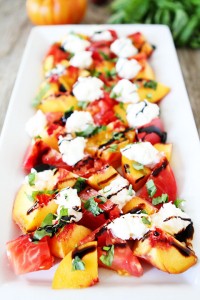 Photo courtesy of Two Peas & Their Pod
If you need more ideas for using fresh tomatoes, Fruits & Veggies–More Matters has their Top 10 Ways to enjoy tomatoes.  Think Gazpacho, stuffed tomatoes, and a healthy tomato vinaigrette!  Enjoy and I'll be back next week with some after school snack ideas your kids will love.
See all posts