Your Best Mix
The way we see it, there are two types of trail mixers in this world. Those who are content with their peanuts, raisins, and M&Ms, and those who take it next level. Clearly, we fall into the latter category
. For us, trail mixes are meant to come in a variety of colors, textures, and flavors, to fit our every mood and activity. In other words, our relaxing "beach day" combo will look different from our "epic hiking adventure" pack. If you follow that, this post was made for YOU!
Not Your Average Trail Mix
Not sure where to start? Think outside the box and build your mix using one (or more!) options from each of these four categories: Crunchy, Chewy, Sweet, and Savory.
Crunchy
Pretzels, popcorn, and cereal are classic standbys but have you tried fruits and vegetables? Freeze-dried and dehydrated, that is! These dried fruits and veggies make the perfect fuel because they're flavorful, shelf-stable, and contain fiber and important nutrients to help fuel your activity! Crunchy strawberries, blueberries, peaches and carrots add sweetness, and green beans and beets provide that savory touch.
Chewy
Raisins are trail mix no-brainers but don't forget other chewy cousins like prunes, dates, cherries, and mango! Another fun and kid-friendly option is homemade fruit leather! Like savory? Sun-dried tomatoes and mushroom or coconut "jerky" fit the bill!
Sweet
Let's state the obvious: where chocolate goes, we follow! Milk, dark, or white, you can't go wrong! That said, toasted coconut, dried pineapple, and banana chips also lend natural sweetness, plus fiber, vitamins and minerals!
Savory
A savory component makes a good trail mix a great one. Think of plain Chex cereal versus Chex Party mix – umami heaven! Roasted green peas, crunchy chickpeas, baked kale chips, jerky, dried mushrooms, nori (seaweed), and pre-seasoned popcorn, chips, or crackers can lend a savory note.
Want to find out the best mix for YOU? Take our quiz below
and get your perfect mix!
Build Your Mix!
Now that you've got your results, start mixing!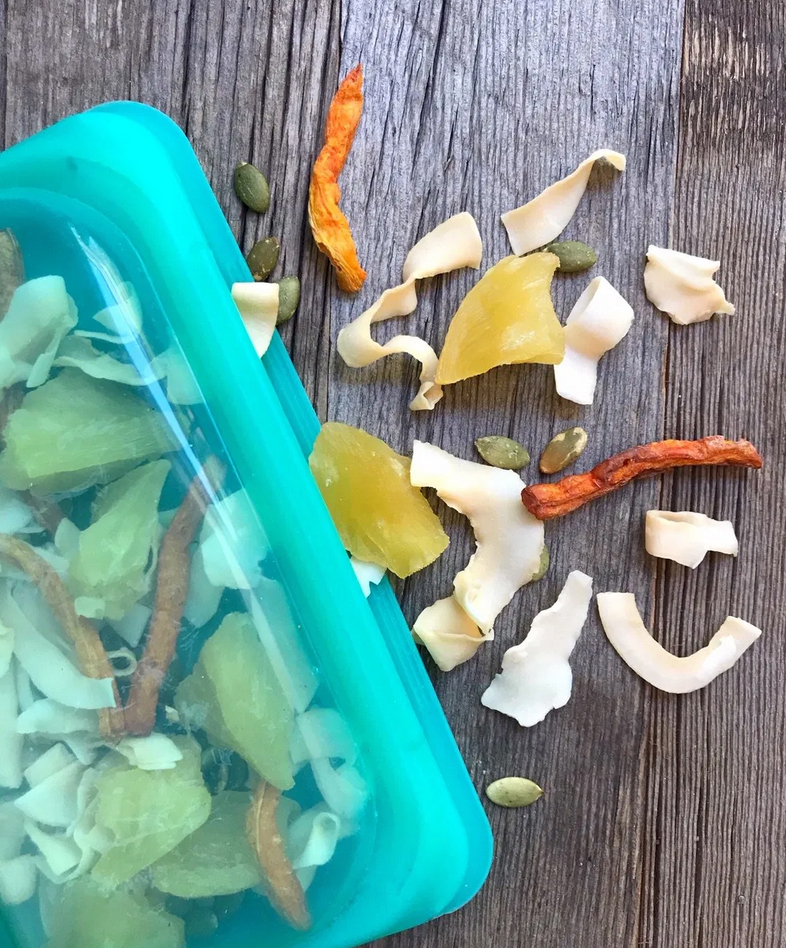 "Beachy" Trail Mix
Fun, sweet, and full of tropical flavor, this simple mix is perfect for days at the beach!
Ingredients
1/3

cup

toasted coconut chips

1/2

cup

dried pineapple

or mango

1/4

cup

pepitas

1 1/2

cups

dehydrated carrot sticks
Instructions
Add all ingredients to a bowl and toss well to mix. Enjoy!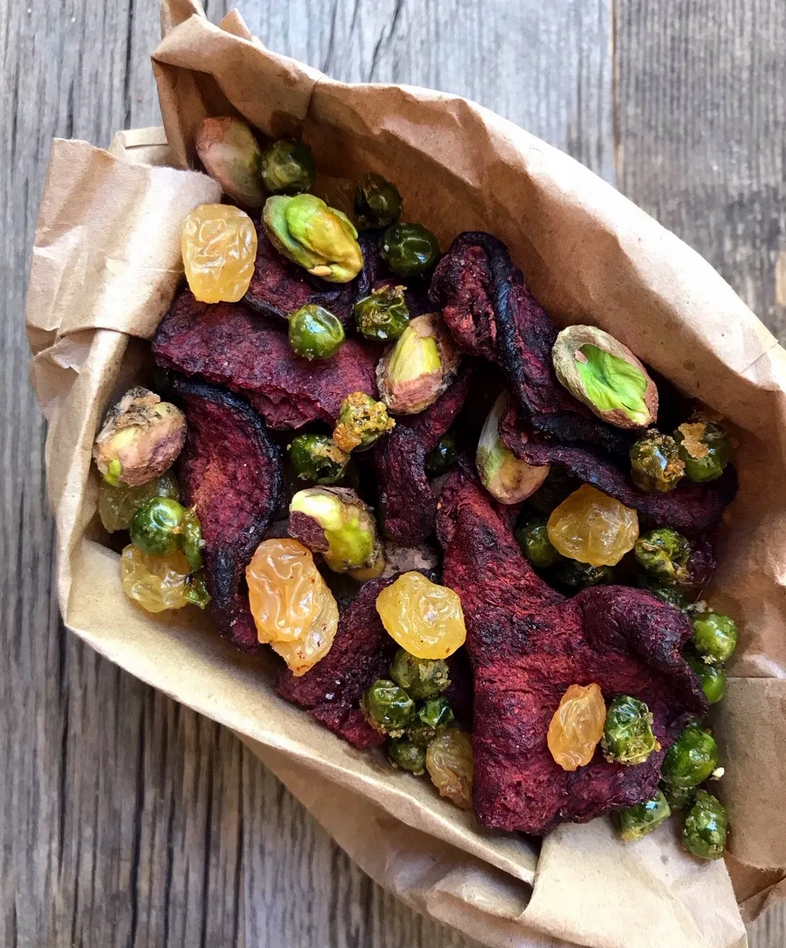 "Rugged" Trail Mix
A hearty trail mix to keep up with your outdoor adventures. This savory, full-bodied combo is built to last!
Ingredients
2

cups

beet chips

1/2

cup

shelled pistachios

1/3

cup

yellow raisins

1/4

cup

crunchy roasted green peas*

can sub with crunchy chickpeas or sunflower seeds
Instructions
Add all ingredients to a mixing bowl and toss to combine. Enjoy!
Notes
*Crunchy Roasted Green Pea recipe can be found
here.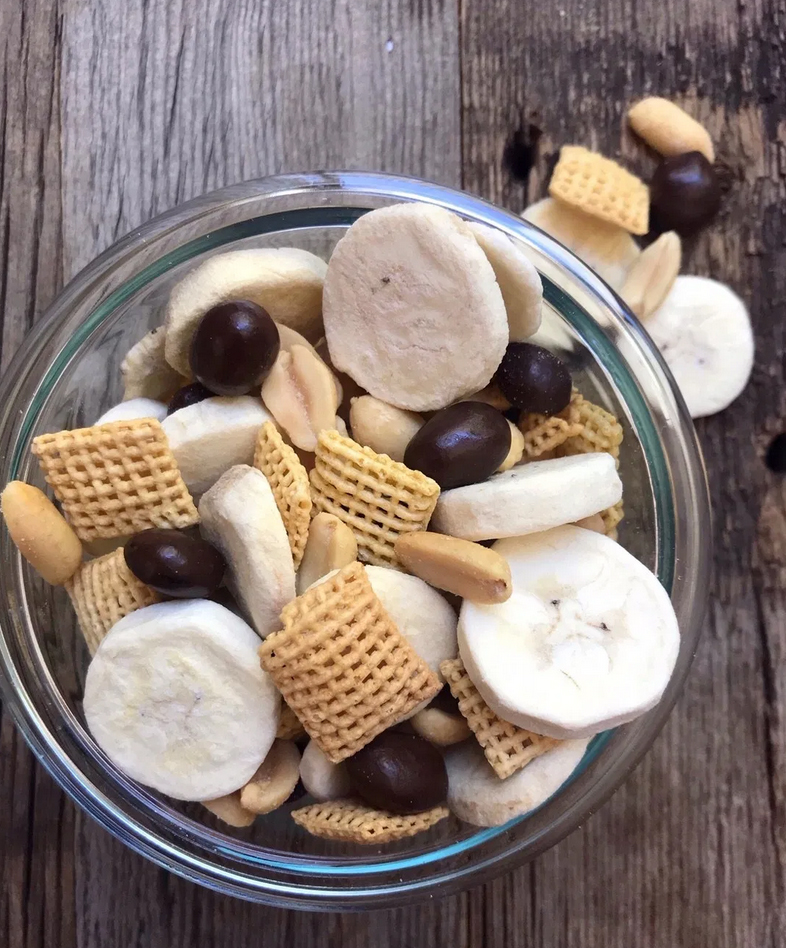 "Carefree" Trail Mix
Sweet, salty, and full of fun, this is the perfect anytime mix!
Ingredients
1

cup

Chex or Cheerios cereal

1

cup

freeze-dried bananas

1/3

cup

peanuts

1/3

cup

chocolate-covered raisins

or espresso beans
Instructions
Add all ingredients to a bowl and toss well to mix. Enjoy!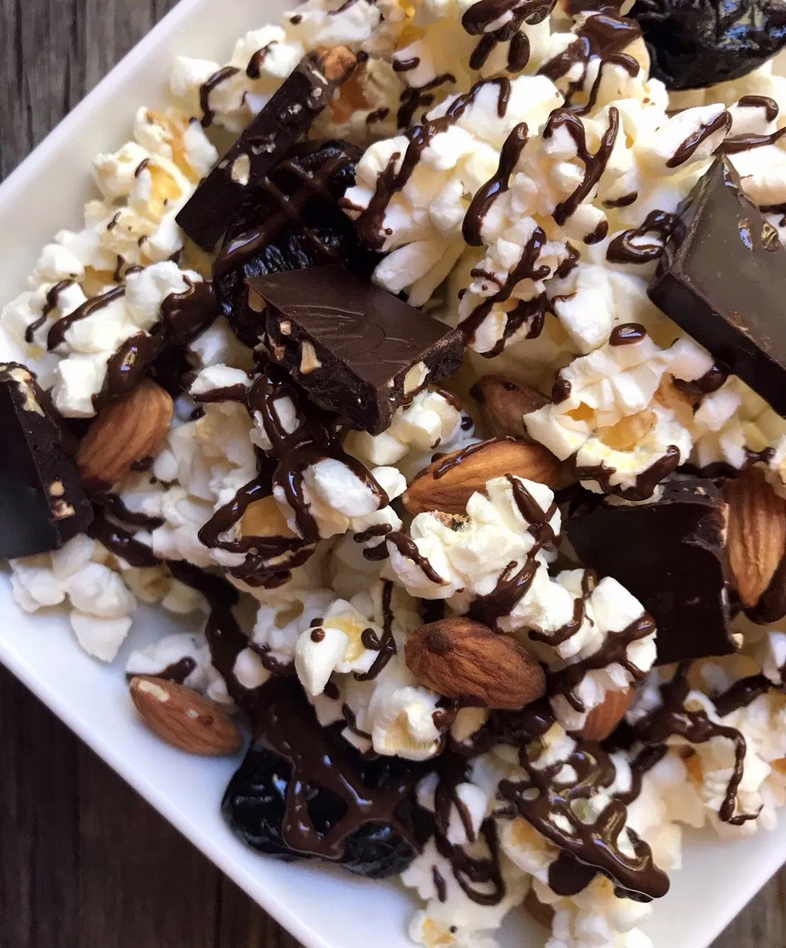 "Classic" Trail Mix
Popcorn, chocolate, fruit, and nuts make this a forever favorite!
Ingredients
3

cups

lightly salted popcorn

1/3

cup

almonds

1/3

cup

favorite chocolate

pieces and for chocolate drizzle

4-6

dates or prunes
Instructions
Add all ingredients to a bowl and toss well to mix. If desired, melt 1/2 of chocolcate in microwave in 15 second intervals until smooth. Drizzle over popcorn. Enjoy!