As the temperatures rise, I often look for ways to keep my house cool and that means using my stove and oven as little as possible.  Grilling is always a terrific alternative, but another option is to avoid cooking your food altogether.  No, I'm not talking about take-out.  No-cook summer meals are both filling and perfect for those intensely hot summer days.
Let's start with something really simple like a basic Cobb Salad.  Use chopped romaine lettuce as your base and diced summer tomatoes.  Add some sliced avocado and chopped rotisserie chicken that you get from your local supermarket.  A traditional Cobb salad also includes hard boiled egg and chopped bacon–you can find these items at your local grocery store's salad bar, I know mine has whole hard boiled eggs there or also sells them in the dairy section.  I make my own balsamic vinaigrette dressing by combining equal parts of olive oil, balsamic vinegar and honey.  It's got a delicious tangy, yet sweet flavor that can't be beat.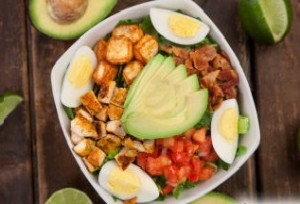 Photo courtesy of Spark People
This Tuna and White Bean Salad is a heartier option, packed with protein.  This recipe is really simple, containing tuna, beans, red onion, bell pepper, olive oil and lemon juice.  Be sure to let the mix refrigerate for at least 4 hours for the flavors to blend before serving.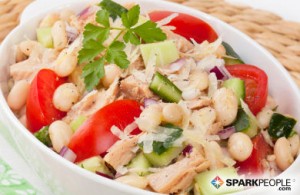 Photo courtesy of Spark People
Spicy Asian Slaw Summer Rolls not only keep your kitchen cool, they are a delicious way to get your family to eat their veggies.  These spring rolls are packed with shredded carrots, green onions, bell pepper, radicchio, bok choy and baby spinach.  A spicy dressing made with sriracha sauce is perfect for dipping.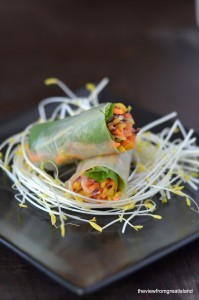 Photo courtesy of The View from Great Island
If you love Mexican, you'll love these Mango Habanero Black Bean Tacos.  Simple to prepare and requires no cooking, these tacos use canned black beans, red onion, bell pepper, avocado, mango and habanero peppers (or mango-habanero jam).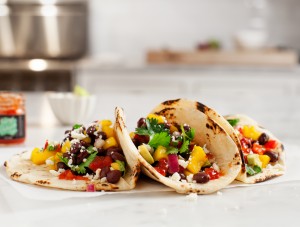 Photo courtesy of Love and Lemons
Enjoy and I hope these recipes help you stay cool this summer.  I'll be back next week with some ideas to help you build a better burger.
See all posts