With so many reasons to eat more fruits and veggies, fear of food going to waste should not get in the way.  This month as we celebrate Stop Food Waste Day, we asked our team of experts for their favorite strategies to reduce food waste while enjoying fruits and veggies.
When In Doubt, Freeze It
The freezer can be a great tool to buy extra time to use fresh fruits and vegetables. According Ellen Lowre, VP, Nutrition & Wellness with Compass Community Living, "Many people don't think about freezing their greens.  We all have great intentions when we buy our salad greens. Before (or even at the stage) they are starting to 'turn', I freeze them to use in a smoothie or when making a frittata for the week." Fruit does well in the freezer too. Nicole Feneli, RD, CSSD, VP Wellness & Sustainability with FLIK Hospitality Group, takes fruit that is getting soft, cuts it up and freezes it to use in a smoothie or to make sorbet or ice cream. "If you freeze fruit on a sheet try and then place it in a bag it is less likely to freeze in a huge clump." Stephanie Dorfman, MS, RDN, Director of Nutrition and Wellness for CulinArt Group shared, "My favorite thing to do with overripe bananas, on the verge of going bad, is to peel them, place them in a container, and keep them in the freezer for smoothies or banana bread."
Practice "Clear Out" Cooking
Many recipes lend themselves to combining and swapping vegetables. If you don't have enough of one type of vegetable called for in a recipe, mix in another similar vegetable. Cooking time is mostly driven by shape and size, so if you cut your vegetables into similar sizes, they can be easily subbed in and may create a new flavor profile you were not expecting. Low on peppers?  Mix in some onions. Not enough asparagus? Add in some green beans. Stir-fries and frittatas lend themselves to mixing and matching fresh vegetables so you can cook them before they go bad.  "Once a week I make a 'clear out the crisper drawer' stir-fry so any veggie that I didn't get to cook that week goes into the stir-fry instead of going bad in the back of the fridge," said Michelle Sadlowski, MS RD CSSD, Division Wellness Director with Eurest.
Repurpose the Scraps
Even when things go as planned, there are often scraps left when we prepare fruits and veggies. They don't all need to end up in a landfill.   Deanne Brandstetter, MBA, RDN, CDN, FAND, VP, Nutrition & Wellness, said, "I gather trimmings during the week from vegetables: peels, ends, etc. and use them to make veggie stock, which I enjoy more than purchased." If you have children who like their fruits and veggies cut a certain way, don't let the extra pieces go to waste. Susan Cooper, MS RDN CDN, Director of Wellness for Flik Independent School Dining enjoys the "scraps" of her kids' fruits and veggies in her own dishes and snacks. Suzanne Landry, Vice President, Wellness and Sustainability with Eurest shares her scraps with other members of her family. "I give my leftover fruit and vegetable scraps to my chickens and ducks, and compost them for soil in my expanding garden. Here is a photo of my best buddy and Cayuga duck Larry on my compost pile that exploded with squashes and pumpkins last season."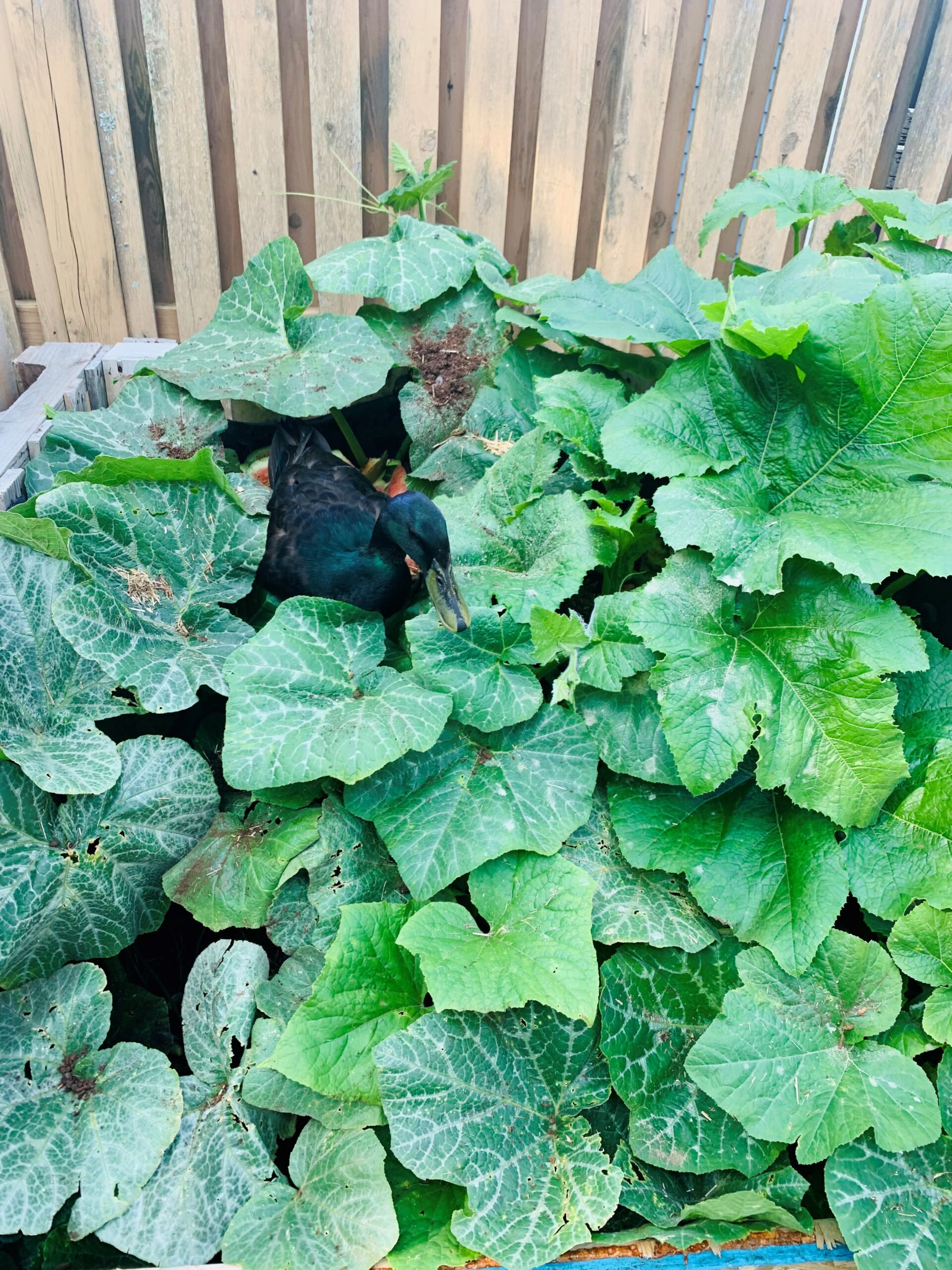 Peggy O'Neill, MBA, MS, RDN, LD/N, FAND, Vice President, Nutrition & Wellness, Morrison Healthcare uses her scraps to fertilize her fruit trees. She has even had some bonus tomato plants pop us as a result. If you don't have space for composting (or ducks), don't worry. For Lindsey Palmer, MBA, MS, RDN, VP, Nutrition and Industry Relations for Chartwells K12, "Living in a big city with no grass/space for my own garden, there are some great composting programs with local schools. You freeze your scraps and bring the items to school based garden programs for composting."
Enjoy All the Types
The wide variety of ways we can purchase fruits and veggies can also help to reduce waste. From fresh to frozen and canned to dried, there are many options to match your needs. If fresh is your preference, be sure you are storing them properly. Megan Dudczak RDN, Corporate Director of Nutrition for Chartwells Higher Ed shared, "It is important to store fruits and vegetables properly to maximize their freshness and shelf life. I keep my tomatoes out of the refrigerator, on the counter, but away from the bananas. Certain fruits and veggies, like bananas and apples give off a gas the speeds the ripening of produce around it!"  Need portability? Consider dried fruit. Raisins are just the beginning of the dried fruit options. Frozen and canned vegetables work well in a variety of recipes and can be ready when you are without the risk of them going bad in the fridge before you can use them. To get more fruits and veggies with less waste, don't limit yourself to only one type.