This Friday is National Pizza Party Day.  Personally, I think every Friday is perfect for a pizza party …what better way to end a long week of school/work?  But, before you reach for the menu from your local pizza parlor, consider making your own pizza for a change.  It's not that difficult and you'll end up with a better product–more flavor, fresher ingredients, and better for you.  I've collected some recipes that include a few not so traditional pizza-inspired ideas you can serve this Friday to celebrate this National Food Day that your entire family will love.
To start, these Zucchini Pizza Bites are a terrific gluten-free pizza option, as they use sliced zucchini in place of the traditional pizza crust for the base.  After cooking the sliced zucchini in a skillet for 1-2 minutes on each side in olive oil, you'll top it with marinara sauce, mozzarella cheese, pepperoni mini slices (see if you can find turkey pepperoni for a lower fat option), and Italian seasoning.  Bake the slices under your broiler for a few minutes until the cheese has melted and serve.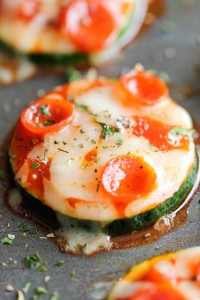 Courtesy of Damn Delicious
This recipe for Healthy Flatbread Pizza is a wonderful blend of sweet and savory flavors.  You'll start with a thin crust Naan bread for your base.  Cubed butternut squash is tossed with pure maple syrup, olive oil, salt, and pepper and then baked until tender and lightly browned.  Fresh pancetta is cooked and then set aside while you combine the cooked squash with thinly sliced red onion, thyme, olive oil, salt, and pepper.  Scatter the squash mixture over the crust and top with the pancetta, along with teaspoons of ricotta.  Sprinkle with Pecorino cheese and bake until brown, about 12-15 minutes in a 450 degree oven.  In a bowl add Rainbow chard (or you can use arugula) leaves with one tablespoon maple syrup, one teaspoon apple cider vinegar, salt, and pepper.  Scatter over the pizza and serve.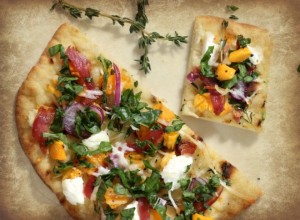 Courtesy of The Melrose Family
Another gluten-free option (and a great way to get an extra serving of veggies) is this recipe for Cauliflower Pizza Crust.  The crust is actually made from cooked cauliflower that's then been grated.  You'll add basil, oregano, garlic, Parmesan, mozzarella, and beaten egg to the cauliflower and mix well.  Press the mixture to a baking sheet lined with parchment paper and bake for 15-20 minutes in a 425 degree oven until golden brown.  Remove from the oven and top with your desired toppings (sauce, cheese, veggies, etc.) and return to the oven until the cheese melts.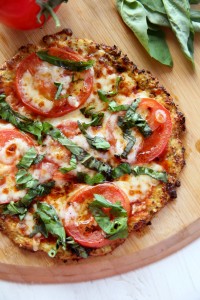 Courtesy of Our Best Bites
We can't forget dessert.  Watermelon Fruit Pizza is a guilt-free option that any sweet tooth will love.  Thick watermelon slices are topped with a combination of softened cream cheese, Cool Whip, powdered sugar, and vanilla.  Then your favorite fruit such as berries and kiwi are arranged on top.  Cut out pie shaped slices and serve.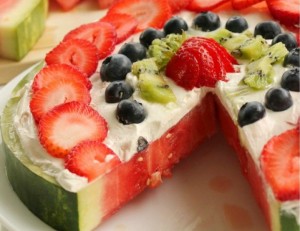 Courtesy of Six Sisters Stuff
I'll return next week with some no-fuss ideas to kick off summer for your Memorial Day celebrations.
See all posts