Papayas are a deliciously sweet fruit that are associated with the tropics as they are native to Central America.  While you may have seen papayas in your local supermarket, now is the best time to purchase these fruits as they are in season, at their best flavor and price.  The nutrition benefits of papayas are plentiful.  They are fat free, cholesterol free, sodium free, a good source of potassium and folate, and an excellent source of Vitamins A and C.  It's easy to simply enjoy this fruit sliced and added to a fruit salad or eaten alone due to its sweet flavor, but there are creative ways to incorporate it into other dishes as well.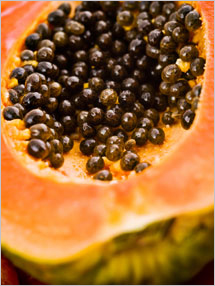 Courtesy of Fruits & Veggies–More Matters
This Strawberry Papaya Salad is almost too beautiful to eat and it's perfect for the season as both papaya and strawberries are at their height of flavor.  The salad is packed with color, flavor, and texture.  Mixed greens, papaya, strawberries, red onion, grape tomatoes, cucumber, red cabbage, avocado, and crumbled blue cheese are combined to make your salad.  A homemade dressing made from lemon juice, Dijon mustard, honey, ground sumac, olive oil, salt, and pepper tops the salad.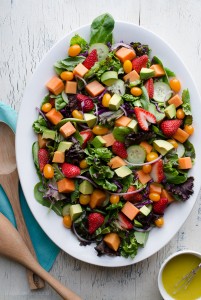 Courtesy of Taste, Love and Nourish
Papaya Coconut Popsicles are a great way to cool down when the weather heats up.  The papaya layer of the popsicle includes fresh papaya, orange juice, and agave nectar blended together.  The coconut layer calls for coconut milk, agave nectar, and lime juice.  You'll need to take a little extra time with the layers so that they have time to set in your freezer before spooning the next layer on top (and so on).  After the final layer is added you'll let the entire popsicle freeze for about 4-6 hours until completely set.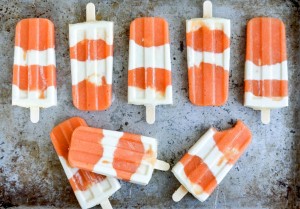 Courtesy of Floating Kitchen
Papaya Salsa is a versatile recipe that can be enjoyed with chips or as a topping for fish or chicken.  You'll need a papaya, red onion, fresh cilantro, lime juice, a Serrano pepper, salt and pepper to taste.  This salsa is best used the day it's made as the fruit doesn't hold up well overnight.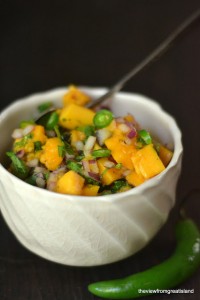 Courtesy of The View From Great Island
You'll notice when you slice open a fresh papaya there are a lot of black seeds …don't discard them!  These seeds are edible and make a terrific salad dressing.  Michael Marks, Your Produce Man, has a recipe for a marinade/dressing using these seeds.  Fruits & Veggies–More Matters also has their Top 10 Ways To Enjoy Papayas, which includes a few recipes.  Enjoy and next week I'll be back with some great ideas for your next pizza party.
See all posts