We begin October later this week and with that marks Vegetarian Awareness Month.  In recent years there has been a push for Americans to incorporate more meatless meals into their diets.  Meatless Monday is one popular initiative designed to get people to start off their week making healthier decisions for their bodies and the planet.  There are definite health advantages to reducing the amount of meat you regularly consume, but a vegetarian diet is also one that must be well-balanced in order to obtain all the necessary nutrients your body requires.  To learn more about the different kinds of vegetarian diets there are, check out our vegetarian diet breakdown for detailed information.  There you will also find the vitamins and minerals that vegetarian diets may be lacking and what foods will supply these nutrients.
For those of us who are interested in adding a meatless meal to our regular routine, you simply can't go wrong.  Not only will you do your body good, but many times you'll also reduce your food bill as meat tends to be one of the higher priced grocery items.  Since we're entering the cooler weather season and comfort foods are more popular now, I wanted to feature some vegetarian meals that were "hearty."  I found recipes that are traditional favorites–only using veggies in place of meat.
I'll start with this White Bean and Mushroom "Meatball" Sub recipe, which is my personal favorite.  I think so many kids and men love to enjoy a good meatball sub, at least they do in my house.  This version uses a combination of white beans, mushrooms, bread crumbs, parsley, onion and spices in a food processor.  The "meatballs" are baked and then heated in marina sauce before added to fresh sub rolls.  This recipe is vegan, but feel free to add some low fat mozzarella cheese to your subs if you like.

Photo courtesy of Sobremesa
Chicken Tetrazzini is a popular, hearty casserole, so I was excited to find a meatless version with this recipe for Vegetable Tetrazzini.  It's got all the same good things as the original (white wine, Fontina cheese, cream, garlic and spices), but in place of the chicken you use lots of veggies.  Mushrooms, leeks and asparagus are combined with farfalle (bowtie) pasta.  It's so flavorful you'll never miss the chicken in this dish.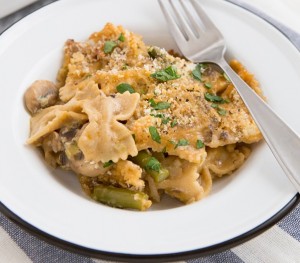 Photo courtesy of Oh My Veggies
Another cool weather comfort food is Shepherd's Pie.  It's traditionally made with beef or lamb and topped with mashed white potatoes.  Lentil and Sweet Potato Shepherd's Pie uses a combination of lentils, carrots, spinach, onions and tomatoes in place of the meat and tops it with mashed sweet potatoes.  It's filling and really packed with flavor, not to mention the fact that it has a lot of protein and fiber.

Photo courtesy of One Ingredient Chef
I hope you'll work some of these meatless entrees into your weekly menus for a healthy change.  Next week I'll share some delicious fall desserts that you don't have to feel guilty enjoying.
See all posts