Ask a group of people to name a fruit most associated with summer and the most frequent answer will probably be some form of melon.  It's hard to picture a summertime picnic without juicy wedges of watermelon as a refreshing treat on the menu.  Part of the popularity is that melons come into season during the peak of summer.  Another reason they're so favored is their sweet flavor and high water content–perfect to help stay hydrated during the dog days of summer.
While melons are a wonderful sweet treat, don't underestimate their nutrition value.  These fruits are an excellent source of both Vitamins A and C, while being fat, cholesterol and sodium free.  There are several different kinds of melons, but the three varieties that are most frequently found (and consumed) across the U.S. are the honeydew melon, cantaloupe and watermelon.  All three melons should be kept uncut at room temperature and then stored in the refrigerator once cut.
I know fresh melon is a great snack alone or added to a fruit salad, but there are some really creative ways you can use these fruits as well.  I've gathered a few recipes to show you how versatile melons can be and how you can leverage their sweet flavor in recipes with spicy/savory ingredients to create an interesting combination.
Honeydew Cucumber Salad is a great side dish for any picnic or summer dinner.  Light and refreshing is how I would describe this recipe, which combines the melon, cucumber, red onion and fresh dill.  You'll also make a dressing from olive oil, lemon juice and honey to coat the fruit and veggies.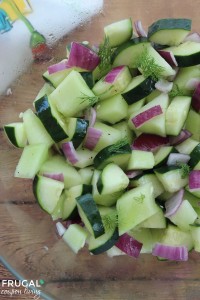 Photo courtesy of Frugal Coupon Living
If you're looking for the perfect elegant appetizer, look no further than these Melon, Prosciutto and Mozzarella Sticks.  They are beautifully presented and delicious.  Oh, and simple to make!  You'll arrange balls of cantaloupe (use a melon baller to scoop out the melon), thin pieces of prosciutto, fresh mozzarella and fresh basil on skewers.  Drizzle with balsamic vinegar and you've got a wonderful appetizer.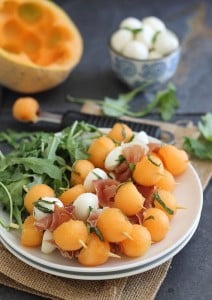 Photo courtesy of Running to the Kitchen
Watermelon, Strawberry and Tomatillo Salad is another great side dish that uses in season produce so that the sweet and savory flavors highlight one another.  It's packed with healthy ingredients–watermelon, strawberries, tomatillos, mint leaves and shallots.  The dressing is simply olive oil and balsamic vinegar.  An added bonus with this recipe is that it only takes 10 minutes to prepare!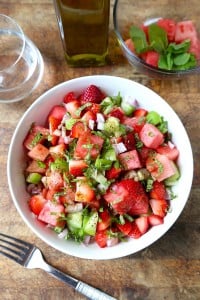 Photo courtesy of Pickled Plum
Michael Marks, Your Produce Man, has a a few more watermelon recipes for you …including watermelon popsicles, using watermelon in salads and even how to grill this sweet fruit.  Have fun experimenting and I'll return next week with some great ideas for your next pool party.
See all posts