If you watch a lot of cooking programs, you've probably seen chefs using a vegetable known as fennel.  Fennel is a flowering plant that is part of the carrot family.  The feathery tops of the plant are used as an herb to flavor many recipes.  Fennel has a unique and fresh flavor, similar to anise (which has a delicate licorice taste).  This vegetable also has nutrition benefits–it is fat free, cholesterol free, low in sodium, a good source of Vitamin C, potassium, and fiber.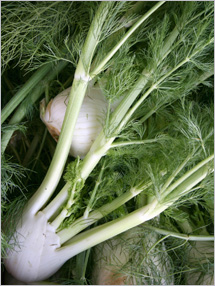 Courtesy of Fruits & Veggies–More Matters
Don't shy away from preparing fennel just because it's not a common veggie.  I've collected some recipes that highlight its flavor that are simple to make.  Grilled Fennel with Parmesan and Lemon requires few ingredients–olive oil, lemon juice, parmesan shavings and fennel bulbs.  You'll slice the fennel bulbs down the middle into 1/4 inch slices.  Using either an indoor or outdoor grill and some olive oil spray, you'll grill the slices until tender and season with salt and pepper.  Drizzle with a little more olive oil, some lemon juice, and parmesan shavings.  You're ready to serve!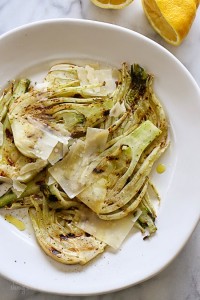 Courtesy of Skinny Taste
Pasta with Fennel, Kale and Lemon uses thinly sliced fennel in a main dish.  Along with the fennel, chopped kale, garlic, red onion, red pepper flakes, lemon juice, olive oil, and spinach fettuccine are combined in this dish.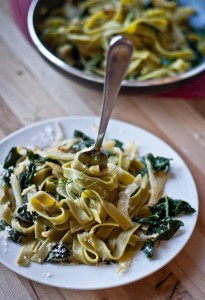 Courtesy of A Beautiful Plate
Citrus Fennel and Avocado Salad is a recipe that has flavors that work especially well together.  This is both a refreshing and nutritious salad, packed with fiber and Vitamin C.  A variety of different kinds of citrus fruits are combined with thinly sliced fennel, sliced avocado, and thinly sliced shallots.  You'll top the salad with a dressing made from olive oil, champagne vinegar, honey, mint leaves, and cracked pepper.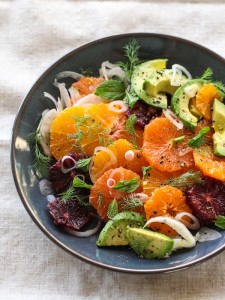 Courtesy of Foodie Crush
I'll be back next week with some delicious and hearty breakfast ideas to kick start your day.
See all posts