You've probably heard the term "clean eating" in a fitness or fashion magazine.  There are some celebrities who swear by this diet method.  So, exactly what does it mean?  Simply put, clean eating is consuming more whole foods (real foods) and avoiding those foods that are ultra processed (think items like toaster pastries and ready-to-eat items).  The idea is to eat foods that are as close to their natural form as possible, this naturally omits any added sodium, sugar and fat from your diet.  In addition, over processed foods tends to strip the food of its natural fiber content and many times it loses valuable nutrients your body needs.
Does this mean you have to follow a new and complicated diet ritual to get the benefits that come with a "clean eating" mindset?  Not at all!  When you look at the basics behind some of the existing healthy lifestyle approaches, you're already taking a step in the right direction.  Fruit and vegetables are a major part of clean eating.  Making them a focus of your meals will ensure you're adding whole foods to each dining experience.  Here are a few other ways to "eat clean":
Choose an abundance of fresh or frozen fruit and veggies
Opt for unrefined grains like brown rice, whole wheat bread and pasta, quinoa, steel-cut oatmeal and popcorn
Choose dried beans and nuts
Buy unprocessed meat and choose pastured over grain-fed.
Opt for farm fresh eggs
Look for labels that have as few ingredients as possible
Cook your own meals rather than buying ready-to-cook options
When cooking, opt for flash cook methods like stir-frying or steaming for veggies
I found a couple of recipes that qualify as "clean eating," but remember that it's easy to simply incorporate fruit and veggies as half your plate (follow the MyPlate guidelines) and you'll do just fine.  This recipe for Roasted Shrimp and Green Beans is fairly simple–using only the main ingredients and spices for flavor.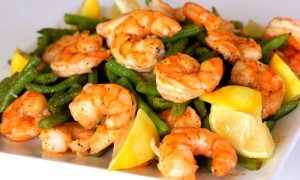 Photo courtesy of Clean and Delicious
Stuffed Bell Peppers are a great dinner option for busy weeknights.  This version uses ground turkey and salsa for the sauce, giving it a Mexican flare.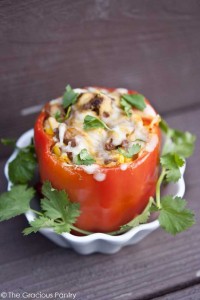 I'll be back next week with some festive beverage options for your holidays.  Enjoy!
See all posts