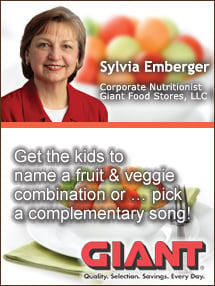 Did you ever wonder why certain fruits or vegetables go together? Is it because they complement each other in color or flavor? Or is it because they are available during the same season? Maybe they're traditional favorites for holidays. Whatever the reason, combining several fruits or vegetables in a serving helps you increase the variety in your intake. If you compare it to music, a single melody is nice but harmony makes a song more interesting.

How can you get the kids in on the fun? Parents can request the number of produce items needed and children can help choose and prepare a composition. The fruits or vegetables can be cut into shapes or arranged into an imaginative scene. Encourage original names for the combinations and a poem or song to accompany the creations! To get you started, check out these tasty fruit and veggie harmonies …

Duos
Broccoli and Cauliflower. Create a 'forest' and sprinkle with Parmesan cheese for rain or snow.
Corn and Lima Beans. Known as succotash but you can change the name.
Peas and Carrots. Arrange the colors into wedges, concentric circles or spirals.
Peaches and Raspberries. Make a 'melba' named after an opera singer (see recipe below).
Apples and Raisins. Make ladybugs. Scoop out small holes on the skin surface of red apple halves and place a raisin in each.
Trios
Watermelon, Cantaloupe and Honeydew. Cubes or balls served as a melon salad.
Green Beans, Red Pepper and Water Chestnuts. A winter holiday.
Strawberries, Blueberries and Star Fruit. Arrange in a flag pattern for patriotic holidays.
Quartets+
Lettuce, Tomato, Cucumber and Carrots. Known as a salad or perhaps a lettocumbot.
Pears, Pineapples, Plums and Papayas. Say it three times … fast!
Strawberries, Oranges, Banana, Kiwi, Blueberries and Purple Grapes. Colors of the rainbow!
Try this delicious combination …
Easy Peach Melba Sundae
Makes 4, 3/4 cup servings

1/2 cup raspberries, plus more for garnish
2 Tbsp sugar
1/2 tsp lemon juice
2 cups nonfat vanilla frozen yogurt
1 cup sliced fresh peaches
fresh mint (optional)

Puree raspberries with sugar and lemon juice in a blender. Scoop 1/2 cup frozen yogurt into each dish. Top with fresh sliced peaches and drizzle with raspberry puree. Garnish with fresh mint and whole raspberries.

Nutrition information per serving: 130 calories, 0 g total fat, 0 g saturated fat, 0 mg cholesterol, 60 mg sodium, 32 g carbohydrate, 2 g dietary fiber, 3 g protein.
Sylvia Emberger, RD, LDN
Fruit & Vegetable Recipes
Video Center: Selection, Storage, and Preparation of Fruits & Vegetables