Love peaches?  Well, now is the time to get to your local farmer's market and take advantage of this juicy, sweet, summer fruit.  Many supermarkets are also carrying local peaches at great prices–just make sure you look to see that they're the local variety to get the best flavor.  And, if you really want a treat, do what I did a week ago and visit a local peach orchard and pick your own!  Aside from their delicious flavor, peaches also have nutritional benefits.  They're low fat, saturated fat free, sodium free, cholesterol free, and a good source of vitamin C.
I've pulled a few recipes together that spotlight this wonderful fruit.  Summer Peach Balsamic Caprese Salad has an amazing blend of flavors.  And, it's light enough that it's perfect for warm summer nights.  An extra bonus is you can throw this salad together in 10 minutes!  You'll use thinly sliced peaches, fresh mozzarella balls, chopped romaine lettuce, toasted sliced almonds, and minced fresh basil.  The dressing is made from balsamic vinegar, agave syrup, Dijon mustard, olive oil, salt, and pepper to taste.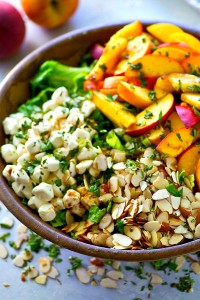 Courtesy of Whole and Heavenly Oven
One of my favorite seasonal desserts is peach crisp.  The problem I always have with an empty nest is I have too much leftover.  Peach Crisp for Two is the perfect solution for those of us who want to make this delicious dish, but don't need to make such large portions.  Of course, you can always double up on this recipe to make more.  You'll use chopped peaches, maple syrup, cinnamon, vanilla, nutmeg, old fashioned oats, coconut oil, salt, and coconut sugar.  The peach crisp is baked for 15-20 minutes in a 350 degree oven and you can serve with low fat frozen yogurt or whipped cream if you choose.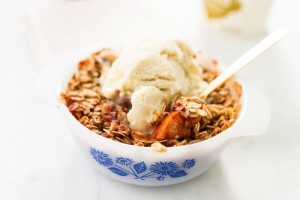 Courtesy of Eating Bird Food
Fresh Peach Salsa is a perfect blend of two summer flavors–peaches and tomatoes.  The sweetness of the peaches complement the tanginess of the tomatoes.  Bell pepper, green onion, salt, and fresh lemon juice are also added to this salsa.  Enjoy with tortilla chips or over chicken or fish.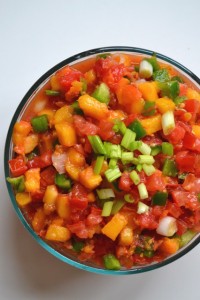 Courtesy of The Nutritionist Reviews
Have a terrific week and I'm back next Monday with some tasty ideas for tea party snacks.
See all posts