Cole slaw is a popular side dish this time of year, but the traditional recipe (shredded cabbage and carrot, mayonnaise, vinegar, sugar and spices) tends to be higher in fat and calories.  What's great about "slaw" is you can recreate this side dish using a healthier base dressing and mix it up with opting for shredding a variety of veggies in place of cabbage.  I've selected a few examples for today's blog to give you some delicious ideas.
Simple Seedy Slaw uses a combination of purple and green cabbage, but also includes mixed seeds like pumpkin, poppy, sunflower, and sesame to add extra flavor and texture.  A light dressing is made from olive oil, lemon juice, garlic, ground cumin, and salt.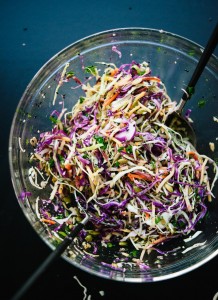 Courtesy of Cookie and Kate
Beet Slaw has an abundance of color, texture, and flavor.  You'll grate raw beets and combine them with sliced scallions, grated ginger, chopped mint, golden raisins, sliced almonds, and sesame seeds.  A light dressing is created by combining lemon juice, honey, apple cider vinegar, and a pinch of salt.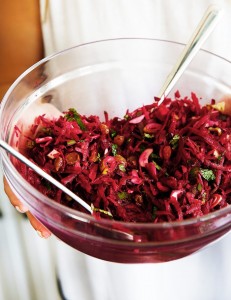 Courtesy of Lexi's Clean Kitchen
If you like your food to have a little "kick", you'll love Spicy Sriracha Broccoli Slaw.  This recipe is super easy too, as you'll use the ready-made bags of broccoli slaw found in the produce section of your supermarket.  Mix in chopped cilantro. You'll create a dressing by combining minced garlic, olive oil, Sriracha sauce, soy sauce, rice vinegar, and lime juice.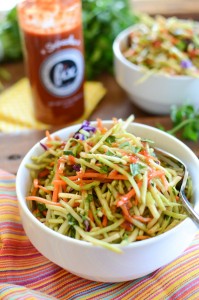 Courtesy of Simply Whisked
Have a great week and I'm back next Monday with some tips on making one of summer's favorite beverages–lemonade.
See all posts