November 22, 2016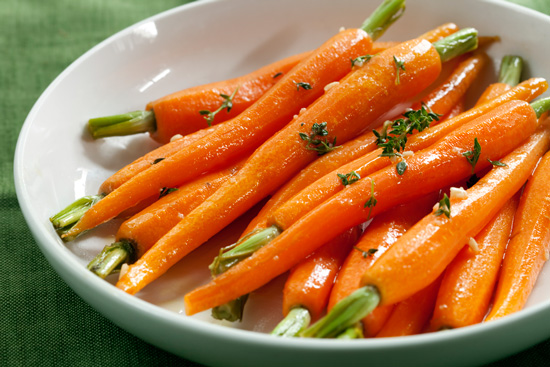 It's true that the turkey gets top billing at Thanksgiving, but vegetables and fruits are truly the unsung heroes of the day.

Think about your own family's Thanksgiving spread. How many dishes are plant-based? Whether it's mom's famous mashed potatoes, dad's green bean casserole or grandma's homemade cranberry sauce, fruits and vegetables make up the majority of the Thanksgiving plate.

Here are some traditional, and not-so traditional, ways to get the most nutrition out of your vegetable and fruit recipes for this year's celebration of gratitude.

Sweet Delights
Making fruit the center of desserts and side dishes is a great way to weave in more nutrition while enjoying the sweet treats you're accustomed to during the holidays. Sometimes it doesn't take veering off the beaten path to add more fruit to family favorites. For example, if you only buy jellied cranberry sauce, experiment with making your own sauce, or chutney, using whole fresh or frozen cranberries.

Keep enjoying traditional fruit pies but go crustless. For example, bake apples or pears stuffed with dried fruit, cinnamon and a dab of brown sugar for an apple pie alternative. Be sure to top baked fruit with toppings like granola, roasted pecans and whipped cream for full effect. Love pumpkin pie? Simply cook the filling in small, single-serve sized ramekins to easily maintain portions while omitting the fat-laden crust.

Casseroles
When making cream-based casseroles, weave in lower fat nutrient-rich ingredient substitutes. In place of heavy cream, opt for full- or reduced-fat milk filtered to have a thicker consistency. Create dips with reduced-fat cheese in place of full-fat cheese, and plain Greek yogurt or skyr (Icelandic-style strained yogurt) in place of mayonnaise.

Roasted Veggies
If you tend to stick with boiled vegetables as side dishes, consider roasting. Roasting adds color, texture and umami flavor. Possible combinations are endless; take your pick from potatoes, winter squash, sweet red onions, mushrooms, carrots, Brussels sprouts, broccoli, cauliflower and more.
Doll up typical vegetable side dishes such as carrots with no-fail, delicious variations like this one from one of my most favorite woman. Enjoy!

Recipe
Margot's Carrots
Serves: 4

What You Need

1 tablespoon olive oil
1 tablespoon butter
2 tablespoons finely chopped shallot
1 pound carrots, washed, peeled and cut julienne
1 teaspoon salt, plus additional for taste
1 teaspoon ground pepper, plus additional for taste
1 teaspoon ground nutmeg

How to Make It

Heat olive oil and melt butter on medium heat in a heavy-bottom sauce pan.
Add shallots and sauté until golden.
Add carrots, salt and spices. Cover and turn temperature to low heat.
Cook approximately 30 minutes (or until desired tenderness), stirring occasionally.
Taste carrots and add pepper and salt as preferred. Serve immediately.
Carrie Taylor, RDN, LDN
Lead Registered Dietitian for the Living Well Eating Smart Program
Big Y Foods
Insider's Viewpoint Archive
Fruit & Vegetable Recipes
Video Center: Selection, Storage, and Preparation of Fruits & Vegetables.