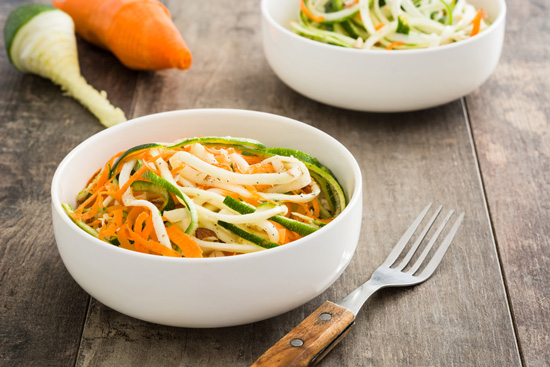 I was inspired by a dad in the supermarket who asked me, "How can I sneak more vegetables into my kids meals?" I replied, "I think they're probably onto your tactic. Why not just make vegetables more fun to eat? Have you ever tried veggie fries, veggie spirals or zoodles?" Root vegetables and squashes are the best for making spiral dishes. They can be used to make colorful pasta-like shapes or hot and cool salads that kids of all ages can enjoy, especially if eating more veggies is the goal.

7 Top Veggies to Spiralize
Rainbow Carrots
Parsnips
Beets
Cucumber
Zucchini & Summer Squash
Butternut Squash
Sweet Potatoes
There are several vegetable spiral machines and zoodle gadgets available for purchase that do not need complicated parts to assemble. Most chefs, however, recommend a good quality vegetable peeler or mandolin for making spiral veggies.

Summertime is a great time to try a pasta salad swap by replacing half or all the usual cooked pasta in your salad recipe with spiral veggies. Here are 2 recipes that offer a cool twist to creating new traditional summer salads. You can simply replace half the pasta in the recipe for spiral veggies such as carrots or cucumber, or completely replace the pasta with zoodles.

Recipe
Veggie Spiral Pasta & Tomato Salad
Serves 2

Ingredients

8-10 grape tomatoes, cut in half
1 medium Zucchini zoodled
1 Tbsp grated Parmesan or Romano cheese
1 Tbsp fresh parsley, finely chopped

Vinaigrette

2 Tbsp extra virgin olive oil
2 Tsp Red wine vinegar
⅛ teaspoon dried oregano
Fresh, ground black pepper and sea salt to taste

Directions
Assemble vegetables in a serving bowl and toss with vinaigrette. Chill and then serve.
Tropical Pineapple-Carrot Salad
Serves: 4



Ingredients

⅓ light mayonnaise
⅛ tsp. ground cinnamon
5 medium carrots, spiraled or bag shredded carrots (about 3 cups)
1 can (8 oz.) crushed pineapple, drained 1/3 cup raisins

Directions

Combine mayonnaise with cinnamon in a medium bowl.
Stir in carrots, pineapple and raisins. Chill until ready to serve.

Nutritional Information Amount per serving: 122 Calories; 19 g Carbohydrate;
1 g Protein 1 g Saturated Fat; 3 g Fiber

Recipe courtesy of Hannaford Supermarket.
Marilyn Mills, MS, RD, LD, CDE
Dietitian, Hannaford Supermarket
Insider's Viewpoint Archive
Fruit & Vegetable Recipes
Video Center: Selection, Storage, and Preparation of Fruits & Vegetables.