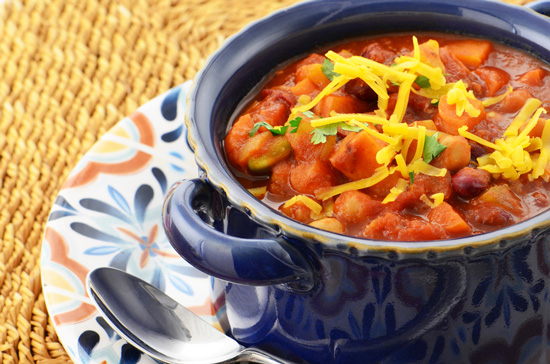 Halloween is a fun holiday for kids and adults alike. It's filled with haunted hayrides, bonfires, warm spiced cider, party games, and plenty of family, friends and food. Speaking of food, here are a few ideas to help you create the perfect menu for a frighteningly good Halloween night.

Pumpkin Seeds. You are never too old to enjoy cutting into a pumpkin, scooping out the goopy inside and creating your masterpiece jack-o'-lantern. But, don't throw away those pumpkin seeds! All you need is a little canola oil and salt to make a seasonal, healthy snack that will make your home smell amazing. And, nothing is more satisfying after carving your pumpkin than crunching on some crispy pumpkin seeds while admiring a job well done.
Sweet Potato Chili! The night of trick-or-treating can be crazy with everyone rushing to get home, changing into costumes, grabbing a bite to eat and hitting the neighborhood streets for candy. It may be tempting to order take-out or delivery to save time, but keep in mind, everyone else has that idea, too! Why not get festive by making a pot of Sweet Potato Chili? (Recipe below.) Chili is a quick and satisfying meal for weeknights, and it's an easy recipe to double or triple for feeding a Halloween party crowd. The orange sweet potatoes and black beans in this recipe are sure to get everyone in the holiday spirit, and it's perfect for warming up after a successful night of trick-or-treating.
Baked Apple Chips. Craving sweet treats other than candy? Apples are in season and delicious this time of year. Try making some Cinnamon Apple Chips for a fun dessert.
Recipe
Sweet Potato Chili

Ingredients

1 lb. ground turkey
1 medium yellow onion, diced
2 medium sweet potatoes, diced
1 (15 oz.) can black beans, drained and rinsed
2 (14.5 oz.) cans diced tomatoes
1 (8 oz.) can tomato sauce
1 cup water
1 tsp. ground cinnamon
1 pkg. chili seasoning (or homemade chili seasoning, below)
Nonfat plain Greek yogurt, shredded cheese, crushed tortilla chips, diced avocado (optional)

Directions

In a large soup pot, brown ground turkey over medium heat. Add onion and sauté until translucent, about 5 minutes.
Place remaining 7 ingredients into pot and bring to a boil over high heat. Reduce heat to medium-low and let simmer for 15 minutes or until sweet potatoes are soft. Top with desired toppings, and serve warm.

Homemade Chili Seasoning: In a small bowl, mix together 1 Tbsp. chili powder, 1 tsp. ground cumin, ¼ tsp. salt, ¼ tsp. black pepper, ⅛ tsp. cayenne pepper (optional), 1 tsp. garlic powder, and 1 tsp. onion powder.

Recipe adapted from: Festival Foods 20 Minute Meals blog
Lauren Tulig, RDN, CD
Dietitian Manager
Skogen's Festival Foods
Insider's Viewpoint Archive
Fruit & Vegetable Recipes
Video Center: Selection, Storage, and Preparation of Fruits & Vegetables.