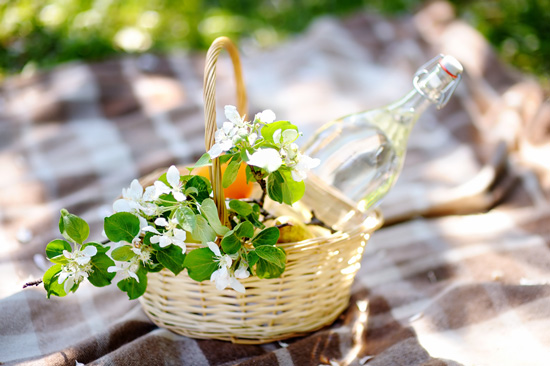 July is National Picnic Month, which is a great excuse to get outdoors. Here are some simple tips to get you on your way towards planning and packing for the perfect picnic!
Keep the Menu Simple. If the food is too complicated, it most likely won't travel well. Plan for the menu to be simple and think of foods that you wouldn't mind eating on your lap.


Ideas: Finger sandwiches with veggies, cheese slices and lean meats, corn on the cob, watermelon slices and high fiber chips with salsa can all be handheld, eliminating the need for additional utensils.


Organize Beforehand. Make a list, then prep things early and keep them in the fridge. Pack foods in hard containers to avoid damage during travel.


Tip: Label foods if making variations of more than one item. For example, turkey, lettuce and tomato with avocado and ham, arugula, and cheese with pineapple.


Pack Essentials Ahead of Time. Blankets and tablecloths, coolers, plates, cups, serving and eating utensils, a bag for trash, insect repellant, a lighter or matches, a corkscrew (if bringing wine), extra ice, any condiments you might need, napkins or paper towels, knives for slicing bread, coals and lighter fluid for the grill, and antibacterial hand gel are some commonly used items.


Don't Char-Grill. When cooking your meat on a grill, avoid cooking to the point of charring it. Flames from the grill that can char meat alter the proteins in the food, which can lead to an undesirable final product.


Tip: Try cooking meat that is wrapped in foil or cook on a wood plank.


Consider Grilling Other Foods. We all know that meat turns out great on the grill, but also consider grilling fruits and vegetables, or even bread. Here are some ideas…

Grilling fruit works well because it caramelizes the natural sugar and brings out the natural sweetness of the fruit. Try grilling stone fruit, like peaches and apricots for a tasty dessert!
Asparagus, bell peppers, onions, mushrooms, carrots and corn-on-the-cob work especially well as a grilled side dish.

Make Smart Beverage Choices. When it's hot outside it is important to choose hydrating beverages like bottled water, 100% juice, and sparkling waters with fresh fruit.
Recipe
Avocado, Lettuce, and Tomato Tea Sandwiches
Makes 8 servings (1 serving = 2 triangles)

Ingredients

2 cups arugula
2 tomatoes, sliced
1 avocado, sliced
8 slices whole-wheat bread
4 Tbsp. blue cheese yogurt based salad dressing
2 slices cooked bacon, crumbled

Directions

Mix crumbled bacon into 4 tablespoons of the blue cheese yogurt dressing. Divide up the dressing and spread among 4 slices of bread.
Stack ½ cup arugula, 2-3 tomato slices, and 1/4 of an avocado on each sandwich. Top each sandwich with another piece of bread. Cut each sandwich into 4 triangles. (You can remove the crust if you'd like.)

Nutrition Facts (per 2 triangles)
Calories: 173, Protein: 7gm, Total Carbohydrates: 24gm, Fiber: 5gm
Total Fat: 6gm, Cholesterol: 4mg, Sodium: 230mg
Hope Danielson
Director of Health and Wellness for County Market

Melanie Kluzek
Registered Dietitian for County Market
Insider's Viewpoint Archive
Fruit & Vegetable Recipes
Video Center: Selection, Storage, and Preparation of Fruits & Vegetables.