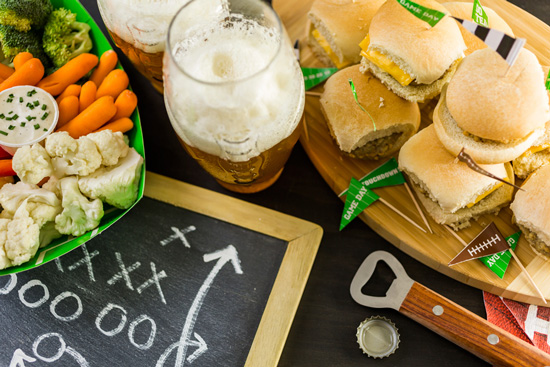 Most Americans look forward to football season all summer long. Well wait no longer, it is here! And although it is okay to splurge on hot wings, pizza, and cold cuts on occasion, keeping that theme going throughout the whole season is going to pack on the pounds fast!

Make more matter! Look for winning combinations that carry big league nutritional value (like fruits and veggies) but still pack a mouth-watering taste!

5 Ways to Slim Down Your Football Party
Fruit Infused
Mindlessly drinking cans of soda during a nail-biting game is certainly worth a major penalty! Instead, create a refreshing infusion bar for your guests. Using sparkling water as the center piece, allow guests to choose from a variety of frozen fruits that will not only add flavor, but keep the beverage cold as the game gets hot!
Not-so-fried Munchies
Toss bite-sized veggies (like broccoli, mushrooms, cut zucchini) in an egg wash, then coat with a mixture of bread crumbs, parmesan cheese, salt, and pepper. Place on baking sheet, drizzle with melted butter and bake at 400° F for about 20 minutes until golden and crispy.
Better Burgers
Sure to be a fan favorite, this blended burger requires a little extra effort but the outcome is tremendous! Follow your typical burger recipe, but substitute finely diced mushrooms for half of the ground meat. The result: a tastier, juicier and better for you burger!
Oven-Fried Potatoes
Place parmesan cheese, olive oil, onion powder, garlic powder, pepper, salt and Russet potatoes cut into wedges into a resealable plastic bag. Shake to season and spread on a baking sheet. Bake for 25 minutes at 425° F.
Sweet Ending
No tailgate party is complete without desert. Place thawed frozen fruit in a shallow baking dish. Sprinkle granulated sugar over top. Top with refrigerated reduced-fat buttermilk biscuits and bake at 375° for 25 minutes.
Now go out and get em'! Socialize, party hard and enjoy some football. Just don't let one splurge place you on the inactive roster the rest of the season–remember to enjoy your food but eat less!
Meredith McGrath RD, LDN
Corporate Dietitian
Redner's Markets
Insider's Viewpoint Archive
Fruit & Vegetable Recipes
Video Center: Selection, Storage, and Preparation of Fruits & Vegetables.