Are you stuck in a rut with your fruit and vegetable intake and tired of eating the same thing day after day? Now is the perfect time to enjoy fruits and vegetables in an entirely new way!
The 2018 theme for National Nutrition Month® was Go Further with Food, and one of the key messages was to plan meals in advance to cut down on food waste. So, add one of these tasty dishes inspired by global cuisine to your meal plan for the week and buy only what you need – fill your belly, eat more fruits and vegetables and cut back on food waste – that's a win-win in our book!
Asian Garlic Tofu with Broccoli and Cauliflower Rice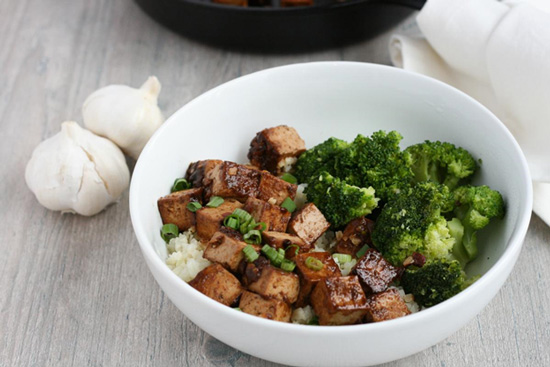 Ingredients
1 package firm tofu
¼ cup Hoisin sauce
2 Tbsp. low-sodium soy sauce
1 tsp. sugar
1 tsp. freshly grated ginger
4 cloves garlic, minced
¼ tsp. red pepper flakes
1 Tbsp. olive oil
Green onions for garnish
1 (12 oz.) bag frozen cauliflower rice, cooked
1 (12 oz.) bag frozen broccoli, cooked
Directions
Remove tofu from packaging and wrap with paper towels. Place a heavy skillet on top to press. Let sit for 30 minutes.
In a bowl, whisk together Hoisin sauce, soy sauce, sugar, ginger, garlic and red pepper flakes.
Cut pressed tofu into bite-sized pieces. Place into sauce bowl and toss to coat. Let marinate for 30 minutes.
Heat oil in a pan over medium-high heat. Add tofu and cook, without stirring, for 2 minutes, or until seared on bottom. Flip tofu and repeat until seared to preference.
Sprinkle tofu with green onions and serve with cauliflower rice and broccoli.
Recipe from Festival Foods' Blog
West African Peanut Soup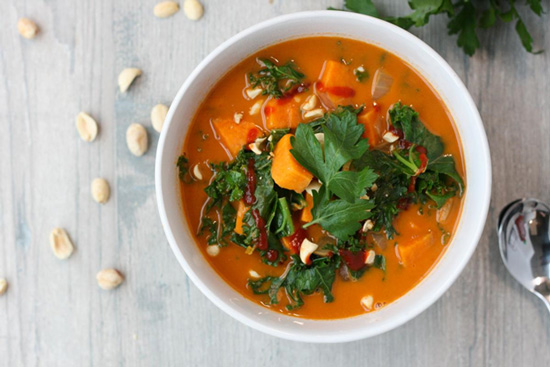 Ingredients
1 Tbsp. vegetable oil
1-inch piece of freshly grated ginger
4 cloves garlic, minced
1 medium onion, chopped
1 lb. sweet potatoes, peeled and cubed
1 tsp. cumin
¼ tsp. red pepper flakes
1 (6 oz.) can tomato paste
½ cup unsalted peanut butter
6 cups low sodium vegetable broth, divided
1 bunch kale, ribs removed and leaves cut into 1-inch strips
Sriracha hot sauce, roughly chopped peanuts and chopped cilantro, for garnish
Directions
Heat oil in a medium pot over medium heat. Add ginger and garlic and sauté 1-2 minutes.
Add onions and cook for an additional 2-3 minutes. Add sweet potatoes and cook until onions are soft. Season with cumin and red pepper flakes.
In a medium bowl, whisk together tomato paste and peanut butter. Slowly add in 1 cup of broth and whisk until well combined. Pour peanut mixture into pot and mix well. Add remaining broth and stir to combine.
Cover pot and bring to a boil over high heat. Remove lid, reduce heat to low and simmer for 15 minutes, or until sweet potatoes are tender. Stir in kale and cook until wilted.
Serve garnished with sriracha, peanuts and cilantro.
Recipe from Festival Foods' Blog