February 28, 2017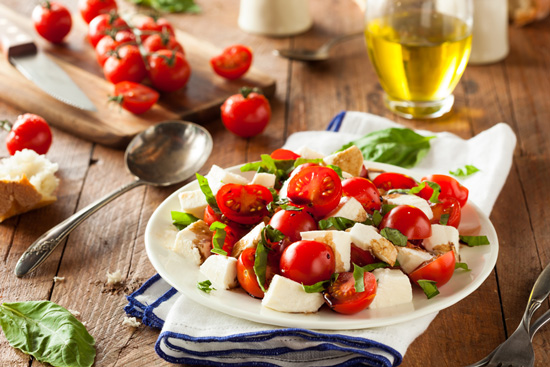 Salads are the perfect any time of year. They're packed full of nutrients and don't leave you feeling heavy. And, with endless combinations to choose from, you can have a different salad every day! Here are 30 unique salad combinations we've come up with – one for every day of the month!

Spinach, sundried tomatoes, grilled chicken, and a garlic-basil vinaigrette.
Chopped romaine, corn kernels, black beans, salsa, avocado, and crushed tortilla chips.
Chunk light tuna, chopped apple, dried cranberries, and sunflower seeds.
Bibb lettuce, shelled edamame, red onion, and a cilantro vinaigrette.
Spinach, sliced strawberries, and slivered almonds with a citrus vinaigrette.
Kale, orange segments, roasted turkey breast, and walnuts.
Potato salad made with scallions, chives, and a vinaigrette dressing instead of mayo.
Cole slaw dressed with Greek yogurt instead of sour cream or mayo.
Shaved asparagus salad with fresh lemon juice, black pepper, and parmesan cheese.
Chickpeas, kidney beans, and steamed cut green beans in Italian vinaigrette.
Iceberg wedge salad with a creamy dressing of plain yogurt, salt-free garlic & herb seasoning, and lemon juice.
Spinach, arugula, sliced roasted beets, grilled chicken, and fresh orange segments.
Romaine, watercress, hardboiled eggs, tomatoes, low-sodium deli turkey, and avocado.
Romaine, halved grape tomatoes, red onion, cucumber, olives, and a tzatziki dressing.
Fresh tomato, mozzarella, and basil drizzled with balsamic vinegar.
Sliced lean cooked steak, roasted vegetables, spring mix, and grated horseradish to taste.
Sliced jicama, blueberries, and mangos in a cilantro-lime vinaigrette.
Bibb lettuce, seared ahi tuna, sesame seeds, diced bell pepper, and sliced radish.
Spring mix, chopped artichoke hearts, roasted red peppers, and pesto.
Chopped spinach, quinoa, parsley, cucumber, tomatoes, and hummus.
Mixed greens, peas, sliced radish, hemp hearts, and lemon juice.
Apples, grapes, chicken breast, and light mayonnaise or Greek yogurt over greens.
Grilled sweet potatoes, red onions, and black beans in a hot chili dressing.
Blanched broccoli, raisins, apples, and walnuts with an apple cider vinaigrette.
Kale, shelled edamame or cubed tofu, and peanuts in a ginger-soy vinaigrette.
Boiled and halved new potatoes, canned salmon, dill, lemon juice, and olive oil.
Cooked whole-wheat pasta tossed with ricotta salata, artichoke hearts, and spinach.
Shaved fennel, minced red onion, and grated parmesan drizzled with lemon juice, orange juice, black pepper, and extra-virgin olive oil.
Grilled hearts of romaine and radicchio leaves topped with a Dijon vinaigrette and assorted vegetables.
Mixed melons, berries, chopped mint, and honey.
Natalie Menza, MS, RD
Manager of Health and Wellness
Wakefern Food Corporation
Insider's Viewpoint Archive
Fruit & Vegetable Recipes
Video Center: Selection, Storage, and Preparation of Fruits & Vegetables.