As we head into the last few days of February, if you're like me you may be getting impatient for gardening season and the taste of veggies grown locally or in your own back yard.  To hold you over for the next few months, fresh herbs can be easily grown indoors all winter long while adding a burst a flavor to your recipes.
Herbs that do well grown inside include:
Basil
Chives
Coriander
Fennel
Lemongrass
Mint
Parsley
Rosemary
Sage
Thyme
You can start an indoor herb garden via seed (this is the most challenging way since you'll need lots of light and certain herbs may need to be started outdoors), from a cutting, where you will place a healthy stem from a plant in a jar of water until it sprouts roots.  You can then plant the herb in soil after the roots are about 1/2 inch long.  Another way is to buy a plant from a nursery or even the supermarket and plant it in a pot.  Once you've got your herbs potted and growing, there is surprising little to do to care for your herbs.  A few key things to keep in mind are:
Water your plants when the top layer of the soil is dry–usually about once a week.
Use a pot that has good drainage.
When potting plants use a good potting soil.
Herbs do well in good sunlight, choose an area that will get 4-6 hours a day.

Courtesy of Black Eiffel
I've included a terrific recipe for Spaghetti Squash with Feta and Herbs, which showcases fresh herbs perfectly.  This dish is simple to make–you'll half the squash and roast it for 40 minutes.  Scrape the inside of the squash out into a bowl (if you're not familiar with a spaghetti squash it looks like pasta when cooked).  Add olive oil, garlic powder, fresh parsley, fresh oregano, fresh basil, lemon zest, feta cheese, salt and pepper, and mix together.  Add the mixture back into the squash shells and serve.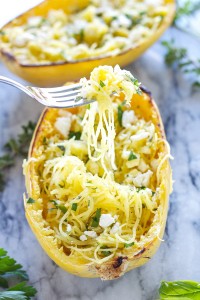 Courtesy of Recipe Runner
Next week I'll be highlighting the fresh taste of fennel as we leap into March.
See all posts