The best way to make healthy choices when shopping is to plan ahead, but let's face it–with busy lifestyles that doesn't always work out.  So, when you find yourself at the supermarket without a plan and without a shopping list, how do you ensure you don't end up with a shopping cart filled with junk food or pre-made, sodium-laden convenience foods?  The answer is to look for specific tools and displays most supermarkets have readily available for you!
Start your trip in the produce section.  At my local market, the Acme, they always have a disply set up to give shoppers ideas for preparing meals.  The display this past week was along the Thanksgiving-theme and as you can see from the photo below, they show ingredients used to create delicious sides like green bean casserole and cranberry relish.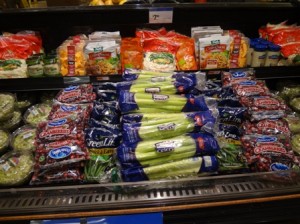 Look for information signs that are posted throughout the produce section like the one that I found among the apples.  Since it's apple season and Pennsylvania apples are popular in my neck of the woods, the store featured a sign showing the different varieties and what each were good for (snacking, baking, etc.).  I've seen similar signs among the different varieties of greens (kale, spinach, collards).  And, always ask a store employee if you don't see the information you're looking for.  I know at my supermarket they are always helpful and full of information about the different products they supply.  I've even seen a handy take home sheet in the seafood section that provided helpful info on cooking different kinds of seafood.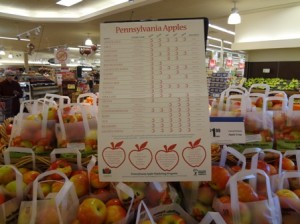 If you're looking for local produce, many supermarkets will have these marked clearly as well.  Fresh basil grown locally was plentiful during my visit, but a few weeks ago the winter squash had recently been harvested in our area and were in abundance.  I'll look forward to spring when I'll begin to see lettuce varieties and local asparagus appear!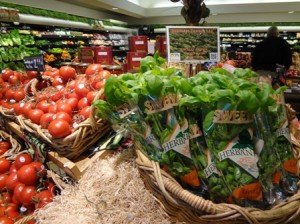 Most importantly–read labels!  Be sure to check for sodium and fat content of the product.  If you're not sure what to look for, don't fret–Fruits & Veggies–More Matters makes it simple with their "How to read a nutrition label" website section.  A simple visual to look for on fruit and vegetable products throughout the store is the Fruits & Veggies–More Matters symbol as shown below.  When you see that symbol you can feel confident that it has the stamp of approval from Fruits & Veggies–More Matters and meets their criteria as a healthy product.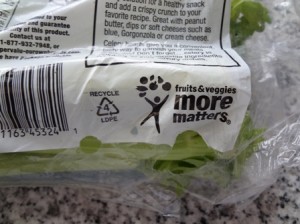 If you stick to these few suggestions you'll walk away from your shopping trip with a nutritious purchase.  Just familiarize yourself with the tools your supermarket already has in place and it will make it easier for you to make better choices! 
See all posts