Halloween is just a few weeks away and it seems like each year more parents are opting for different activities than the usual trick-or-treating.  In many cases, this allows parents to cut down on the amount of candy their children consume and provides a safer environment for them.  Many schools and community centers host activities, but there's no reason you can't host your own Halloween costume party and make it fun while keeping your party menu both tasty and nutritious for your ghoulish guests.
Recently, Fruits & Veggies–More Matters hosted a Twitter Party on "Healthy Tips for Halloween."  There were so many great ideas from participants, I have to share some of them with you since these are sure to be a hit at any Halloween party.  California Cling Peaches shared a photo of "pumpkin cups" where they took individual peach cups and drew little Jack-o-Lantern faces on each.  These are great for both a party or to hand out for Halloween as an alternative to candy.
Everyone loves caramel apples this time of year so why  not try an apple dipping bar at your party?  Set up sliced apples with warm caramel dip and then set out different toppings like crushed nuts, toasted coconut or chocolate sprinkles.  Some other healthy party treats include mini veggie pizzas, dried fruit and nut mix and low-fat string cheese.
California Grown Fruit had a spooky idea for hard boiled eggs by turning them into "ghosts" as can be seen in the below photo.  Another simple and healthy idea kids will love!  Dandy Fresh actually created a Pinterest board just for Halloween.  You'll love the "Slimy Radish Eyeballs" and the "Veggie Skeleton" (complete with dip!).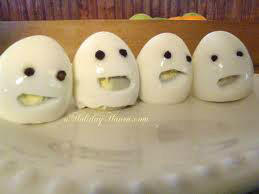 I hope you'll try some of these creative ideas this year for Halloween.  Remember, for most kids Halloween is really about the fun of dressing up as their favorite character and the thrill of the season–if you make the most of the holiday they'll enjoy it without the massive amounts of candy.  Enjoy and happy Halloween!
See all posts