Now that December has arrived, we're into full holiday party mode.  One way to celebrate the season is to hold an "open house," where friends can stop by during a specific time of day or evening.  Rather than a structured party, an open house is more casual and the food that works well tends to be hors d'oeuvres/finger food options.  The idea is to have simple, yet tasty bites that your guests can enjoy as they stop by that won't inhibit them from walking around and socializing (so, nothing too difficult to eat while standing or moving about).  And, while the traditional crudité trays and cheese plates work well, there are some other interesting choices you may want to try.
These Mini Spinach Lasagna Roll-Ups are perfect, bite-sized appetizers.  They contain all the flavors of homemade lasagna with some chopped spinach, in a miniature size.  A toothpick inserted make them easy for your guests to handle.

Photo courtesy of Tablespoon
Avocado Prosciutto Crostini is a great hors d'oeuvres, as it's simple to make and has a combination of wonderful flavors.  Fresh pesto, goat cheese, avocados, lemon juice, thinly sliced prosciutto, olive oil and freshly cracked black pepper top sliced French bread.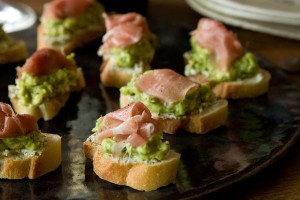 Photo courtesy of What's Gaby Cooking
Sweet Potato Rounds with Herbed Ricotta, Cranberries and Walnuts is as festive as it is delicious.  All the flavors of the season are packed into one tasty bite in this colorful appetizer.  Sweet potatoes, cinnamon, ricotta cheese, herbs, walnuts, cranberries, and honey are what you'll need for this recipe.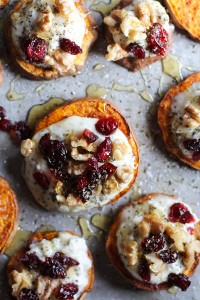 Photo courtesy of The Roasted Root
A time saving dip option is this recipe for Slow Cooker Spinach and Artichoke Dip.  It allows you to take all your ingredients and put them in your slow cooker for about 2 hours or so until you have a creamy, savory dip that goes well with sliced bread or crackers.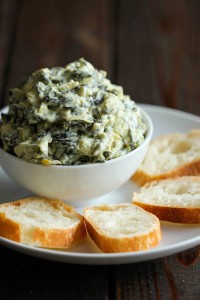 Photo courtesy of Damn Delicious
I hope you enjoy these recipes at your next party and I'll return next week with a look at a popular trend–spiralizing veggies.
See all posts