As I write this blog, my area is bracing for the first winter storm of the season.  Truth be told, I was hoping we'd completely avoid the white stuff this year, but it looks like Mother Nature has other plans in store for our region.  Whether you spend a snow day sledding, having a snowball fight, or as I do, shoveling your driveway, one way to keep warm when coming in from the freezing cold is with some hearty food.  Soup is the obvious choice, but I've got a few other options that will keep you toasty and fill you up in the worst of snowstorms.
If you're taking a break from clearing your sidewalk or your little ones need a rest from building snowmen, these Pear, Cranberry and Pecan Muffins go perfectly with a cup of hot cocoa.  They're even vegan, which means you don't need dairy of any kind.  Canned pears, dried cranberries (or raisins if you prefer), and chopped pecans (or another nut of your choice) are mixed in with flour, cinnamon, ginger, vanilla, and sugar among other ingredients.  They bake in a quick 25-30 minutes.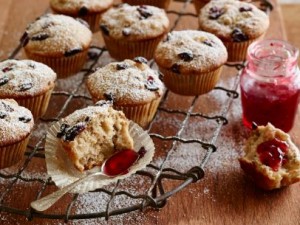 Courtesy of The Food Network
For dinner Tex-Mex is on the menu.  Let spices and the warmth of peppers help to add some heat to your day.  We'll start with Spicy Veggie Bean Chili, which is hearty despite being a meatless dish.  Black beans, quinoa, zucchini, bell pepper, diced tomatoes, jalapeno, garlic, onion and vegetable broth are combined with a spice blend.  Simmer the ingredients and then top your chili with diced avocado and cilantro.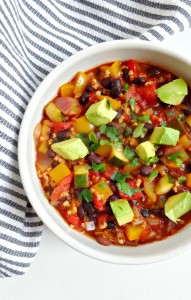 Courtesy of The Glowing Fridge
Add to your dinner this family pleaser, Fruits & Veggies–More Matters' Ranch Hand Nachos, which is one of their healthy kid's recipes.  Red bliss potatoes are used as the base for these nachos in place of the usual fried tortilla chips.  Lean ground turkey breast, reduced-fat, shredded cheddar cheese, shredded iceburg lettuce, diced tomato, diced cucumber, chopped cilantro, chili powder, and salsa are combined for your topping.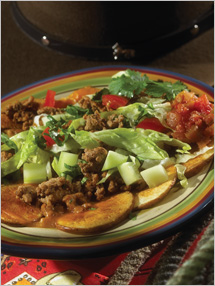 Courtesy Fruits & Veggies–More Matters
I hope these recipes help keep you warm during your next snow day and just remember …only 54 more days until spring!!
See all posts