Welcome to 2017! We begin the new year with one of my favorite "food days"–National Spaghetti Day.  Pasta has always been a main part of big family meals in my house.  I love it and my mom is part Italian, so I grew up eating a lot of different pasta dishes.  While many folks think of the traditional red sauce or meat sauce when they prepare pasta, there are a lot of ways to incorporate veggies into pasta recipes to make them healthier and more flavorful.
Garlic Chili Pasta with Roasted Cauliflower has a terrific garlic flavor with a little kick from red pepper flakes.  You'll also use olive oil for roasting the cauliflower and sautéing your garlic, some pine nuts, and parsley for added flavor.  Sprinkle with a little parmesan to finish the dish.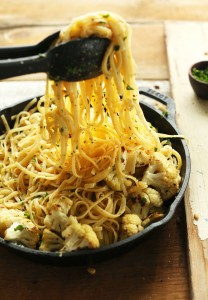 Courtesy of Minimalist Baker
If you like a traditional sauce, you'll love this recipe for Pasta with Fresh Tomato Sauce.  You'll use fresh plum tomatoes, fresh basil leaves, flat leaf parsley, chopped garlic, olive oil, and salt/pepper to taste.  This is a no-cook sauce, so you'll simply have to cook your pasta, mix with the prepared sauce and sprinkle with a little parmesan.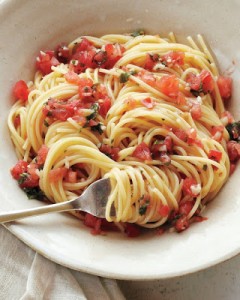 Courtesy of Pia Recipes
Creamy Butternut Squash Pasta is perfect for anyone who loves cheesy or creamy pasta sauces (like Alfredo).  However, the difference with this recipe, is the creamy texture comes from roasted butternut squash that is then pureed instead of creams and cheeses (you'll save big time on fat and calories!).  In addition, this recipe blends some great flavors like sage and nutmeg.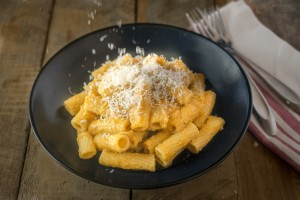 Courtesy of Culinary Ginger
Enjoy and I'm back next week with some ways to add apricots to your menu.
See all posts