If you're anything like me, you enjoy baking during the fall months.  Maybe it's the abundance of delicious fall fruit available and the fact I don't mind heating up the kitchen now that the temps are cooler.  While traditional cookies, cakes, and pies are always welcome treats at any table, there are also some really great recipes using fruit that cut the calories and fat content while not sacrificing any flavor.
Easy Spiced Hot Fruit Bake is a gluten free option you'll want to try this fall.  You'll combine sliced apples, pears, cranberries, and pineapples with a little lemon juice.  Melt some butter, sugar, and spices (cinnamon and nutmeg) and coconut oil, then combine.  Add honey and leftover pineapple juice to the mixture and then pour over the fruit to coat evenly.  Put fruit into a 9×12 baking dish and bake at 300 degrees for 1 hour.  Add chopped walnuts and serve.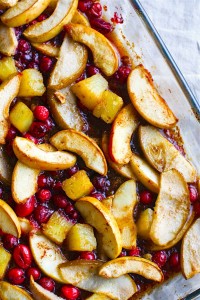 Courtesy of Cotter Crunch
Applesauce Pumpkin Bread combines two of fall's favorite flavors.  You'll need a can of pumpkin puree, sugar, applesauce, water, eggs, flour, baking soda, salt, and pumpkin pie spice.  Mix together the pumpkin puree, eggs, sugar, applesauce, and water.  In a separate bowl, mix together the flour, baking soda, pumpkin pie spice, and salt.  Add the flour mixture to the pumpkin mixture and stir until blended.  Pour into a bread pan and bake at 350 degree for 45-55 minutes.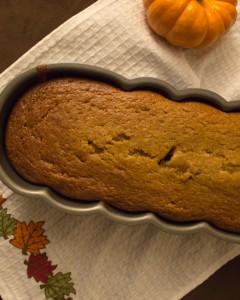 Courtesy of Trial and Eater
Pumpkin Pie Protein Bites are a kid friendly "baking" recipe since it actually requires no baking.  You can grab your little ones to help you shape these little balls and they are the perfect size for snacking.  You'll need pitted dates, applesauce, pumpkin puree, almond milk, vanilla extract, coconut flour, pumpkin pie spice, cinnamon, and chocolate chips.  Put dates, applesauce, pumpkin, almond milk, and vanilla in a food processor and blend until pureed.  Add coconut flour, pumpkin pie spice, and cinnamon.  Blend until a ball of dough forms.  Stir in chocolate chips.  Roll into 12-15 bites.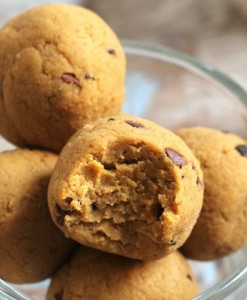 Courtesy of Hummusapien
If you love Mexican food, check back next week when I'll have some great recipes for tasty tacos.
See all posts