Who doesn't love a sweet treat every now and then?  I know I do!  Many times we avoid having dessert because of the high sugar and/or calorie content that comes along with it.  The good news is that you can have a really great dessert without having to feel guilty about it.  Right now fall fruits are coming into harvest, which means they are at their peak of flavor–sweet and perfect for snacking and adding to recipes.  Think apples, pears, pumpkin and cranberries–all those delicious fall flavors you crave this time of year.  While there are some not-so-healthy versions of desserts using these fruits, I've collected recipes that you can actually feel good about serving your family and eating yourself.  So dig in!
I'm a sucker for brownies–seriously–I think they are one of my all-time favorite treats.  Flourless Apple Brownies is a wonderful recipe as the ingredients include only baking chocolate, butter, chopped almonds or hazelnuts (your choice), chopped apples, sugar (just 1/3 cup), and a pinch of salt.  The result is chewy, chocolate goodness with chunks of sweet apple.  You'll be hooked.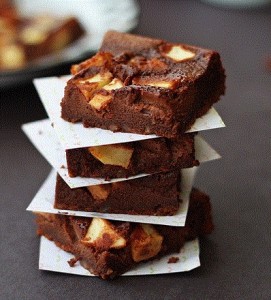 Photo courtesy of Roxana's Home Baking
Quick Baked Pears takes advantage of in season pears and their natural sweetness.  This is actually a very elegant dessert to serve at dinner parties and looks lovely on the plate.  Top the baked pear with cinnamon, dried cranberries and frozen vanilla yogurt or whipped cream.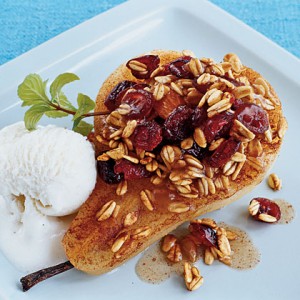 Photo courtesy of Amy Kalyn Sims
If cookies are your weakness, you'll love these Powerhouse Cookies.  They contain no refined sugar, but instead get their sweetness from fruit (bananas, applesauce, and dried cranberries), as well as honey.  Old fashioned oats, almond flour, vanilla and cinnamon round out this tasty recipe.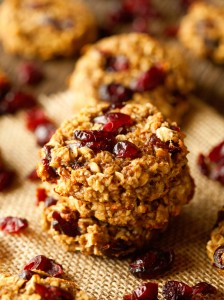 Photo courtesy of Chef In Training
For a super simple dessert, serve fresh fall fruit sliced with Fruits & Veggies–More Matters Fruity Peanut Butter Dip on the side.  It will only take you 15 minutes to pull together and is a great way to get your family eating more fresh fruit.  Enjoy and I'll be back next week with how some fruit and veggies are also beneficial for our pets.
See all posts