Say good-bye to candy-bar fundraisers! Yes, you can still raise money for your important cause, but why not do so in good conscience, with these healthy options*.
We've also provided some leads to companies that stock healthy options in vending machines—perfect suggestions for your employer or parent-teacher association to consider. If you have a healthy fundraising or vending company to share, let us know!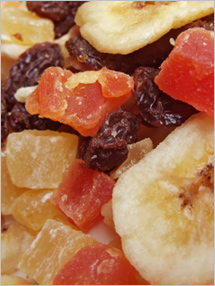 Healthy Fundraising Options
Healthy Vending Machine Options
HEALTHY FUNDRAISING OPTIONS

Albritton Fruit Co., Inc.
Prefers to deliver east of the Mississippi, but makes deliveries in the west and to Canada every other week. No deliveries to Alaska, Hawaii or Europe. Offers citrus for fundraising. Free information packet available upon request.
5430 Proctor Road
Sarasota, FL 34233
toll-free order line: 1-800-886-0917
Fax: 941-922-4354
www.albrittonfruit.com

Citrus Country Groves
Delivers fruit to any state in the continental United States; no shipping to Alaska or Hawaii; shipping available to the Canadian provinces of Quebec or Ontario.
14950 US Highway 301
Dade City, FL
33523
Phone: 800-940-2601
www.holidaycitrus.com
Top
Florida Department of Citrus
Citrus fundraising. Supplies information packet, printed materials and posters for fundraising. Also, provides list of Florida-based shippers that work with fundraising.
For a detailed list of shippers and more information on fundraising opportunities:
Mailing address:
P.O. Box 148
Lakeland, FL
33892
Physical address:
1115 Memorial Blvd.
Lakeland, FL 33801-0148
Phone: 863-499-2500
Fax: 863-284-4300
www.floridajuice.com

Florida Indian River Groves Citrus Fundraising
Citrus fundraising.

Mailing Address:
P.O. Box 2764
Vero Beach, FL
32961
Physical Address:
652 Azalea Lane
Vero Beach, FL
32963
Phone: 800-468-3168
Fax: 772-492-0898
Email – [email protected]
www.floridaindianrivergroves.com
Top

FRUITION/Tony Vitrano Company
Dedicated to serving the Mid-Atlantic region for fundraisers all year long. Offers Florida and California citrus, apples, pears and gift fruit boxes for fundraisers. Call or e-mail for a free information packet.
Maryland Produce Market
PO Box 2001
Jessup, MD 20794
Phone: 800-481-FRUIT (3784)
Email: [email protected]
www.fruitiongifts.com

Gracewood Groves
Services continental United States, as well as Alaska and Hawaii and the Canadian provinces of Quebec, Ontario and Maritimes. Will provide free information packet upon request.
PO Box 7002170
Wabasso, FL 32970-0217
Phone: 800-845-1362
Fax: 772-581-7780
Email: [email protected]
www.gracewoodgroves.com
Top
Mixon Fruit Farms, Inc.
Shipping includes standard delivery to most of the USA, no shipping to Europe.
2712 26th Ave East
Bradenton, FL 34208-7427
Phone: 800-608-2525 x268 ask for Steve
Email: [email protected] or [email protected]
www.mixonfundraising.com

Sun Groves, Inc.
Ships to all of the United States and Canada as well as 16 European countries. Free information packet available upon request.
Mailing address:
P.O.Box 1038
Safety Harbor, FL
34695
Physical address:
3393 SR580
Safety Harbor, FL 34695
Toll-Free 800-672-6438
Phone: 727-726-8484
Fax: 727-793-0991
[email protected]
www.sungroves.com
Top
Vidalia Onion Fundraising
Service available nationally.
Georgia's state vegetable can be purchased straight from the farm through your local organization and Vidalia Onion Fundraising. They offer easy and profitable fundraising through fresh Vidalia Onion and Vidalia Onion product sales catering to organizations and groups who are looking for fundraising opportunities.
Contact Matthew or Shannon Hendley
1603 McIntosh Street
Vidalia, GA
30475
Phone: 912-293-7171
Email – [email protected]
www.vidaliaonionfundraising.com

HEALTHY VENDING

Amport Foods

Offers dried fruit, sunflower seeds, and other snacks.
Serves New York City, Long Island and New Jersey.
Water, diet sodas and fruit drinks and seven flavors of 100% juice as well as raisins and fruit cups, zero-fat fruit snacks, baked chips, nuts, yogurt and other low-fat snacks.

American Importing
550 Kasota Avenue S.E.
Minneapolis, MN
55414
Phone: 612-331-7000
Fax: 612-331-1122
Email: [email protected]
www.amportfoods.com
Phone: 516-398-2760 or 917-572-3671
Email:
[email protected]
www.healthy-vending.com
Top
Yo! Naturals
Service available nationally.
YoNaturals is the creator of the YoZone Healthy Vending Program, which offers a "one stop" solution to healthier vending, including machine distribution, installation, training and complete food distribution of leading natural and organic brands.
437 South Highway 101, Suite 209
Solana Beach, CA 92075
Phone: 858-794-9955
Fax: 858-794-9959
Email: [email protected]
www.yonaturals.com
*Please note: Listing does not imply a PBH endorsement.
Top