Pasta salad is quite popular at summertime barbeques, picnics, and pool parties.  However, the old fashioned version that combines macaroni with a bit of chopped celery, onion and lots of mayonnaise isn't exactly health conscious.  Not to mention the issues it can create in the food safety department due to the mayo-based dressing.  Thankfully, pasta is so versatile and with the abundance of summer veggies, there are a multitude of delicious combinations you can create.  I'm featuring a few this week I think you'll enjoy at your next summer soiree.
Mandarin Pasta Spinach Salad with Teriyaki Dressing has a wonderful blend of textures and Asian flavors.  The base of your salad is bowtie pasta and fresh spinach.  Add in dried cranberries, pine nuts, mandarin oranges, and chopped cilantro.  A dressing is made from teriyaki sauce, rice wine vinegar, olive oil, garlic powder, onion powder, sugar, salt, and pepper.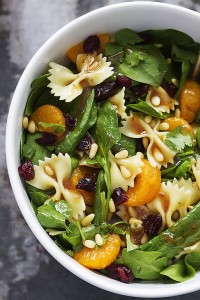 Courtesy of Crème de la Crumb
Grilled Veggie Pasta Salad takes advantage of the most popular forms of summer cooking–grilling.  Zucchini, bell pepper, red onion, and asparagus are brushed with olive oil and grilled until tender.  Cut veggies into 1/2 inch pieces and place into a bowl with cooked pasta (ziti was used in this recipe).  Mix with olive oil, balsamic vinegar, salt, and pepper.  Top with fresh oregano and Parmesan cheese before serving.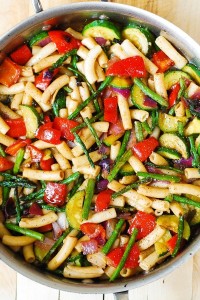 Courtesy of Better Homes and Gardens
Lemon Garlic Orzo with Roasted Vegetables is delicious served hot or cold.  Mushrooms, bell pepper, asparagus, cherry tomatoes, garlic, and shallots are roasted. You'll create a dressing with olive oil, lemon juice, salt and pepper.  Combine cooked orzo, roasted veggies, pine nuts, feta cheese, and dressing.  Garnish with basil and parsley before serving.


Courtesy of Vanilla and Bean
I'm back next week with some ways to enjoy slaw–using different kinds of veggies and dressings.
See all posts