'Tis the season for goodwill, friends, family, and celebrations.  Unfortunately, many times all these holiday gatherings can result in unwanted, excess weight gain by the new year.  A big part of the problem is that traditional seasonal recipes are loaded with fat and calories.  Thankfully, it's not difficult to still enjoy yourself this holiday season, yet take a healthier approach to your holiday menu.
Garlic Herb Butternut Squash is a super flavorful side dish that can replace something like twice baked potatoes. The recipe calls for cubed butternut squash, extra virgin olive oil, chopped fresh herbs (parsley, thyme, and rosemary), minced garlic, salt and pepper to taste.  Not only is this low fat and calorie, but it's easy to prepare.

Courtesy of Healthy Seasonal Recipes
Holiday Honeycrisp Salad looks festive and combines in season flavors.  Thinly sliced honeycrips apples, toasted pecans, dried cranberries, and blue cheese are combined with salad greens for the salad.  A dressing is made from extra virgin olive oil, apple cider vinegar, apple cider, honey, lemon juice, salt and pepper to taste.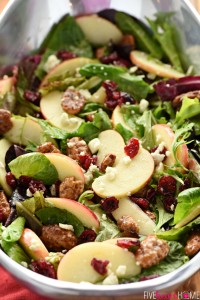 Courtesy of Five Heart Home
Roasted Cranberry and Goat Cheese Flatbread make a festive and delicious appetizer for your guests.  You'll roast fresh cranberries in maple syrup, shallots, thyme, and salt before spreading them over the flatbread.  Top with goat cheese and then place back in the oven to bake until the cheese is softened and the bread is crispy.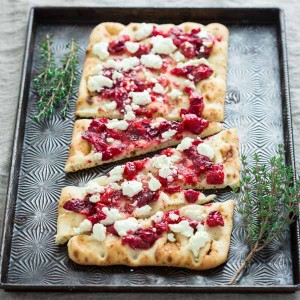 Courtesy of Healthy Seasonal Recipes
A healthy dessert alternative to cakes, cookies, and pies is this recipe for Baked Pears with Honey, Cranberries, and Pecans.  You'll use fresh pears (Bartlett, bosc, or Anjou), fresh cranberries, chopped pecans, ground cinnamon, ground nutmeg, honey, and a little Greek yogurt if you want to serve on top.

Courtesy of This Gal Cooks
I'll be back next Monday with some ideas for your Christmas morning brunch.
See all posts