Written together with Jennifer Schmiel, RD, LDN
When it's time to toast, be the coolest host! These cocktail & mocktail recipes bring festive flavor and holiday cheer using #fruits and #veggies for your next holiday gathering. Enjoy flavors of the season with added health benefits. With these mocktail recipes, we can say "Cheers!" to better choices. A mocktail is a cocktail without alcohol so it is great for all ages. Seasonal fruits, vegetables, herbs, 100% juices, and seltzers come together for a refreshing twist on seasonal cocktails and give you a dose of good-for-you nutrients at the same time!
One of the best things about produce is its vibrant color! The brighter the color, the more beneficial plant compounds it contains! Orange fruits and veggies like carrots are high in Vitamin A, which keeps your eyes healthy. Red produce is full of antioxidants that fight inflammation and disease. Citrus fruits contain Vitamin C, a powerful antioxidant, which keeps our skin healthy and our immune system strong. And all fruits and vegetables are a great source of fiber.
Fruits are naturally sweet, therefore, extra sugar or syrup may not be needed to make these holiday drinks. When buying seltzer to mix in, choose one that is unsweetened or sugar-free. This will keep drink calories lower to can save room for all our favorite holiday foods!
Fresh herbs in drinks? It's wonderful… give it a try. Herbs add an extra layer of flavor and are full of vitamins and antioxidants as well. When adding herbs to beverages, you may want to muddle them to infuse more flavor into the drink. To muddle, add the herbs to the pitcher and mash them gently with a pestle or handle of a wooden spoon.
Here are four colorful holiday mocktails. Simply combine all ingredients in a small pitcher, gently muddle the herbs, and add chilled seltzer. All these recipes can be made as a cocktail if desired; simply omit the seltzer in each recipe and add ½ cup alcohol of choice.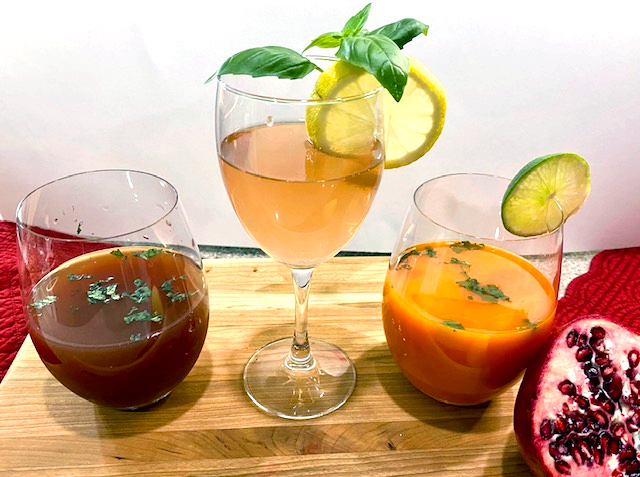 Rosemary Carrot Citrus Mocktail
This tangy-citrus fusion would be a refreshing drink to serve with a cheese board or meat tray.
⅔ cups of carrot juice
⅔ cups of orange juice
¾ cups of lemon seltzer
1-2 pieces of Rosemary
Sparkling Grapefruit Mocktail:
Green tea is lower in caffeine than black tea so a great choice for an evening drink that won't interfere with your sleep. And green tea is a powerful antioxidant.
½ cup Grapefruit
½ cup green tea
½ cup pomegranate juice
½ cup black cherry seltzer
Sparkling Winter Mocktail:
Apple and cranberry are a classic combination. Up the nutrition with antioxidant-rich pomegranate juice and refreshing mint!
1 cup apple cider
½ cup of cranberry seltzer
½ 100% pomegranate juice
5 mint leaves
Pear Basil Kombucha Mocktails:
Kombucha is full of gut-healthy probiotics. Choosing a ginger-flavored kombucha makes a cozy "pairing" for the pear juice!
1 cup pear juice
1 cup lemon-ginger kombucha
⅓ cup lemon juice
5-8 basil leaves