This week I welcome Guest Blogger Katie Serbinski, MS, RD.  Katie is a Registered Dietitian specializing in nutrition and health communications.  As a public relations and food industry expert, Katie creates social marketing campaigns and customized media content aimed at engaging communities, families, and individuals in healthy and nutritious lifestyles.  Along with consulting, Katie is a Millenninial Mom blogger, writing about all things family and food related: healthy recipes, maternal and child health and musings about being motherhood at http://katieserbinski.com/.  Katie resides in Metro Detroit with her husband and young son.  This week, Katie has some smart ideas about how to have a healthy, yet fun Halloween.
With a chance to dress up in a favorite superhero costume and stock up on sweets, Halloween is the holiday of choice for many kids, from toddlers to teens.  While it's easy to enjoy this festive holiday with your family, it's also easy to overindulge on those sweet treats.  Especially since the goal of many children while trick-or-treating is to get as much candy as possible!  The key to keeping candy consumption in check is to have snacks on hand that assure healthy treats are getting into those little tummies.
Now I'm not suggesting you deprive your child of the traditional candy-laden Halloween experience.  But practice good guidance and show them that there is more to this spook-tac-u-lar holiday than pre-packaged candy.  A little bit of spooky and a whole lot of healthy, these family-friendly treats are options the whole family can enjoy before and/or after the biggest night of candy eating.
Pumpkin Hummus
Pumpkin Hummus is a twist on the classic party appetizer, perfect for holiday gatherings.  Serve with pita chips or fresh vegetable sticks.  If the idea of making homemade hummus makes you run the other way, just grab a container of pre-made hummus and mix with half a can of pumpkin puree, adding seasonings such as cinnamon, cumin, and salt to taste.  See my recipe below!

photo courtesy of allrecipes.com
Ninja Turtle Apples
If you are looking for a new after school snack or party treat, these Ninja Turtle Apples are sure to be a hit!  Plus, October is National Apple Month–why not take advantage of this in-season produce.  All you need are green apples, glue, streamers, googly eyes, and a black marker to draw on a mouth.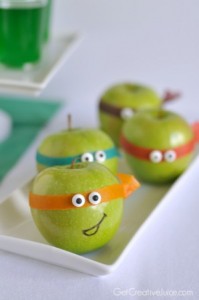 photo courtesy of getcreativejuice.com
Candy Corn Parfaits
Candy for breakfast?  That's what your kids may be thinking when you present them with a candy corn parfait.  Inside each cup, there's pineapple, oranges, and vanilla yogurt!  This is a perfect grab n' go option for before or after school too!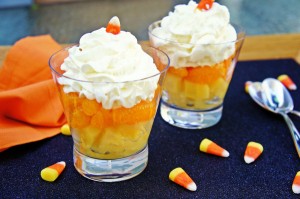 photo courtesy of mysuperfoods.com
Halloween Day Strategies
If you let your kids indulge in some treats right after trick or treating, consider limiting their intake to a certain number of pieces each day AFTER the holiday or put the candy stash out of reach and out of sight.  Then the kids have to ask for it–that is, if they remember that it's there!  You could also remember that a piece of candy is served up alongside something healthy.  Use your best judgment given what you know about your child's personality and eating habits.  And lastly, before your kids go trick-or-treating, try to serve a healthy meal so they're  not hungry when the candy starts coming in.
Easy Pumpkin Hummus
Ingredients:
1 10 oz. container of store bought plain hummus
1/2 15 oz. can of pumpkin puree
1 teaspoon of pumpkin pie spice
Vegetable sticks or pita chips for dipping
Directions:
-Mix hummus, pumpkin and spices until combined.
-Serve immediatedly or store in refrigeratore for up to one week.
See all posts