Tomorrow is one of the most festive holidays–Cinco de Mayo!  In this country, we typically celebrate by going out to a Mexican restaurant and eating our favorite dish (and enjoying margaritas!).  This year, try having your Cinco de Mayo celebration at home with some healthy vegetarian options.  One of the things I love about Mexican food is how easy it is to add fresh veggies to many of the recipes and substitute items like beans, rice and mushrooms for meat.  The blend of spices that are traditionally used in Mexican cooking make this cuisine one that's always flavorful so that you won't miss the meat.
Let's start with these Spinach and Mushroom Quesadillas with Avocado and Pepper Jack.  They make a great appetizer when cut into bite-sized portions or an entrée for kids. I also like that this recipe uses whole wheat tortillas.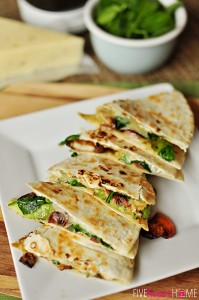 Photo courtesy of Five Heart Home
A favorite recipe of mine are these Black Bean Spinach Enchiladas.  Let me begin by saying that my son doesn't particularly care for spinach and he really likes the spinach in this recipe–a big win!  The other great bonus is the enchilada sauce recipe.  I actually use this version on all my other enchiladas, it's so good (and easy).  I was surprised at how filling these enchiladas were considering they are vegetarian, but I can only eat one, so be prepared to have some leftovers!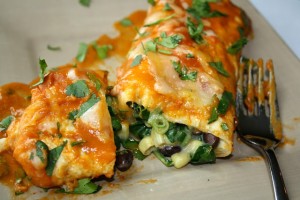 Photo courtesy of The Garden Grazer
Visit any Chipotle and you'll notice that Mexican "bowls" have become very popular.  Spaghetti Squash Burrito Bowls are a great idea–packing loads of traditional ingredients like bell pepper, corn, salsa, black beans, green onions and spices into a nutritious spaghetti squash.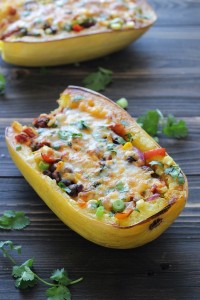 Photo courtesy of Making Thyme for Health
For dessert, skip the high calorie sopapillas or churros and opt for this simple, sweet treat of sliced fruit.  It's inspired by a popular Mexican street food snack and really easy to prepare.  Slice mango, pineapple, papaya and cantaloupe and place into glasses or bowls.  Next, squeeze a bit of lime juice on the sliced fruit and top with a dusting of chili powder.  The end result is a mix of spicy-sweet flavor.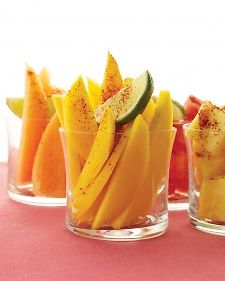 Photo courtesy of Martha Stewart Living
Happy Cinco de Mayo and I'll return next week with some tips on eating Mediterranean style.
See all posts