May is Celiac Awareness Month.  According to the Celiac Disease Foundation, 1 out of 133 people in the United States is affected by Celiac Disease.  People who suffer from this are frequently believed to have an allergy to gluten, a protein found in wheat.  Actually, sufferers have an auto-immune reaction to gluten, which triggers the classic symptoms including abdominal cramping, bloating, diarrhea and weight loss in more serious cases.  The treatment for this disease is the strict adherence to a lifelong gluten-free diet.
In recent years, going gluten-free has picked up some popularity by people who claim to feel better by reducing their gluten intake or those who may have some intolerance to gluten products.  Having had a co-worker who suffered from Celiac disease, there is a definite difference between someone who wants to reduce their intake and a true Celiac sufferer.  The smallest amount of gluten can trigger a reaction so it's important for them to look closely at all ingredients of their meals to ensure everything is gluten-free.
Here's some good news–fruits and veggies are naturally gluten-free and play an important role in creating nutritious daily meals.
While there have been a lot of alternative options to the traditional items (gluten-free flour, gluten-free pasta, etc.), sometimes it's easier to plan your meals around foods that are already naturally gluten-free to start.  Here are a few ideas:
 Rice instead of pasta–Preferably brown rice as a base to stir fry or chili.
Spaghetti Squash!  That's right–this veggie looks like spaghetti, but it's gluten-free, not to mention it's got just a fraction of the calories.
Potatoes are always a perfect "starch" option (and you get fiber with them!).  Who needs the bread or the pasta when you can roast, bake, grill or boil a potato?  And, don't forget about sweet potatoes!
Beans are better–fiber and protein–they're filling and so versatile.  Soups, salads, casseroles–the uses are endless.
Quinoa–a grain-like crop, which has grown in popularity is actually seeds that are naturally gluten-free and packed with nutrients.
Corn products–go for corn flakes at breakfast and corn taco shells or tortillas when dining Mexican.
Fruits & Veggies–More Matters even has some healthy recipes that are gluten-free ready for you to try.  Brown Rice w/Sizzling Chicken & Vegetables features broccoli, bell pepper, carrot and onion.  Just make sure the soy sauce is also gluten-free.  Even certain ingredients can sometimes have gluten hidden in them.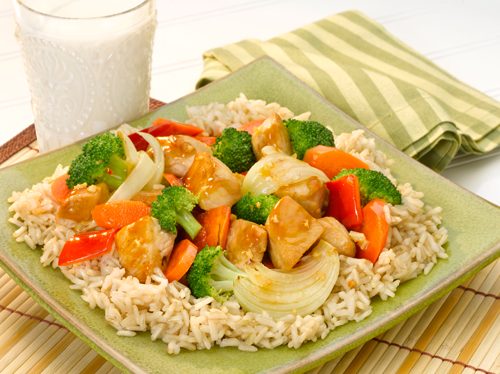 Grilled Chicken & Avocado Quinoa Pilaf  is one of our newest healthy plates and features quinoa as the "grain" choices.  Add some sliced oranges and you've got yourself a perfect meal for the grilling season.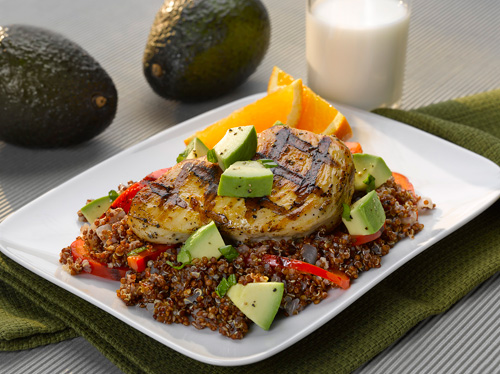 Finally, we've got Easy Oven Packet Caribbean Tilapia w/Pears & Carnival Roasted Potatoes.  Another healthy meal with colorful veggies that can be made any time of the year.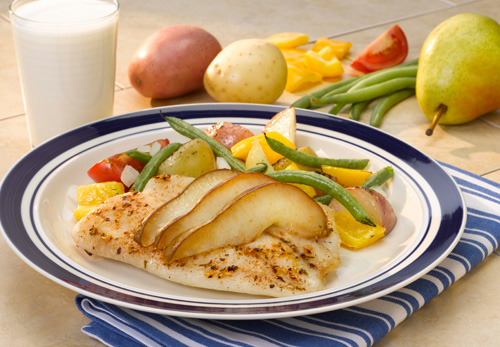 With some effort you can reduce or, if necessary, eliminate gluten from your diet.  Let fruits and veggies make that transition easier while also adding needed nutrition to your daily meals.
See all posts