Whether you're traveling to the beach or your own backyard, keep your family fueled with snacks that incorporate produce! Fruits and vegetables are an easy, portable option that provides the vitamins, minerals, and hydration needed to keep our bodies full and energized on those hot summer days. Looking for fun ways to make that happen? Check out these ideas that take traditional summertime favorites up a notch with a sweet produce twist!
Camping
Move over s'mores, there's a new favorite fireside dessert! After spending the day exploring, who wouldn't want to enjoy this camping treat? This snack is perfect for refueling your muscles and energy, while also satisfying your sweet tooth. The toppings below are just suggestions; there are endless possibilities for your crew to customize these grilled goodies!
Grilled Banana Splits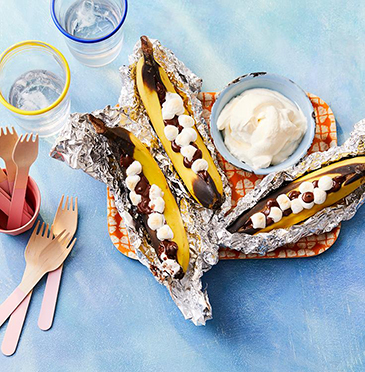 Ingredients
4 bananas
¼ cup mini marshmallows
¼ cup mini chocolate chips
¼ cup chopped nuts
1 (13 oz) can dairy whipped topping
Steps
Set the grill to medium. Leaving the peel on, slice into each banana lengthwise, making sure not to slice the whole way through. Fill the slit of each banana with 1 tbsp mini marshmallows, 1 tbsp chocolate chips, and 1 tbsp chopped nuts. Wrap each banana in foil.
Set foil-wrapped bananas on grill over medium heat. Cook for 7–10 min., turning once, or until chocolate and marshmallows are melted. Unwrap, and top with whipped topping.
Water Day
Whether you're headed to the pool, lake or beach for the day, these caprese skewers are the perfect grab and go snack for your day of sun and swimming! Assemble your skewers that morning, or even the night before, place in a sealed container, and throw them in the cooler. Get the kiddos involved with picking the fruits and herbs as well as assembly. Use a toothpick for smaller bites or wooden skewers for larger. The best part? No need to fear germy fingers or sandy hands touching the food since they'll be ready to eat!
Try these balanced summertime skewer ideas:
Cherry tomato + mozzarella cheese + peach slice + basil
Watermelon + feta cheese + blueberry + mint
Strawberry + cheddar cheese + grapes + kiwi
Staycation
Sometimes the best vacations happen without even pulling out of the driveway! Make your staycation even sweeter with these homemade popsicles. Customize this recipe with what you already have on hand or explore substitutions like 100% pineapple juice paired with strawberries. These are the perfect snack to refuel the whole family after running through the sprinklers!
Mango-Orange Swirl Pops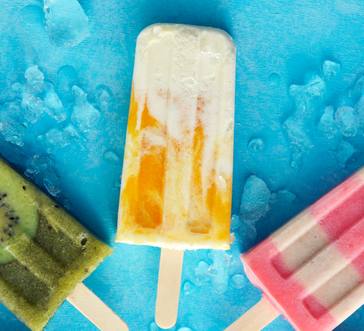 Ingredients
½ cup 100% orange juice
1 ½ cups mango (fresh or frozen, thawed)
¾ cup softened vanilla ice cream
Wooden ice-pop sticks
Steps
In a blender, purée orange juice and mango until smooth.
Add alternating spoonfuls of the orange-mango mixture and vanilla ice cream into 6 popsicle molds.
Using a knife, swirl until almost combined, yet with some white swirls still visible. Insert ice-pop sticks and freeze 4 hours, until solid. When ready to eat, run the pops under warm water for a few seconds to release from molds.