Summer means backyard barbeques and one way to enjoy your barbeque in a healthy, yet tasty way is by grilling fresh, in season fruit and vegetables.  I'm sure most of you are familiar with the traditional grilling methods for fruit and veggies, such as veggie kabobs or throwing sliced zucchini and eggplant on the grill, so I'd like to broaden the scope a bit to using your grill for some ideas you may not have considered.
How many of you have a panini press?  Have you ever thought about using your grill to create a grilled version?  This recipe for a Grilled Vegetable Panini is the ideal summer sandwich.  It uses summer produce like eggplant, zucchini and tomatoes along with red onion and basil to create a filling that is both hearty and healthy.  A basil pesto adds to the flavor of the fresh vegetables.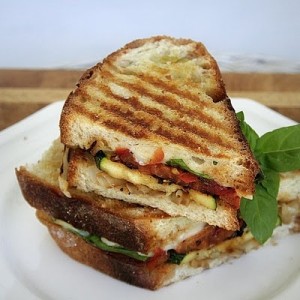 Pizza may not be something you associate with the grill, but it's actually quite easy to do.  First you'll have to cook the pizza dough and then you can add your favorite topping.  The image below shows a pizza topped with pesto sauce and fresh baby spinach.  This version won't need extra cooking time, but if you do a traditional tomato sauce and mozzarella cheese, you'll have to put the pizza back on the grill for a bit longer for your topping to cook.  You can also make these into desserts by adding fruit and a bit of chocolate sauce to the cooked pizza dough.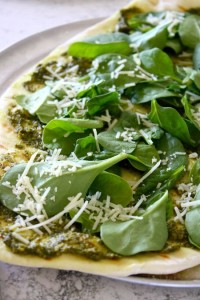 A lot of people still hesitate to throw fruit on the grill.  I think they're afraid they may overcook or burn the fruit.  Just closely watch the fruit while it's on the grill and remember that it doesn't take long.  I think you'll be surprised at how much grilling brings out the natural sugar of the fruit.  Here is a simple recipe for grilled nectarines that mimic flavor of a traditional cobbler without all the fat and calories.
I hope you'll explore ways to add fruit and vegetables to your outdoor grilling this season.  You can basically throw almost anything on the grill, it just may require using certain items like tin foil or a basket for some fruits and veggies.  Happy grilling!
See all posts