This week, we all have a little luck of the Irish, whether we're actually of Irish heritage or not.  Since St. Patrick's Day is tomorrow, many of us will be donning our green and preparing traditional Irish fare to celebrate the popular holiday.  Unfortunately, a number of the typical dishes associated with the holiday can use a nutrition makeover.  If you're watching your diet, I do have good news–there are some very "Irish" meals that are quite healthy and ones you should feel really good about eating, not only on St. Paddy's Day, but all year round.
Cabbage is an Irish food staple (corned beef and cabbage, cabbage rolls, etc.) and this veggie is a wonderful addition to your diet.  It's fat free, cholesterol free, low in sodium, low in calories and packed with Vitamin C (something many folks don't know!).  Oh yes, and it's green (if you're going with that whole St. Paddy's Day green theme).  So, the key here is preparation–how you prepare this healthy veggie so it's delicious without adding unnecessary calories and fat.
Let's start with Easy Caramelized Cabbage and Onions.  A simple side dish that uses onion, olive oil and cabbage.  The key is tossing the cabbage and onions often while they cook to make sure they brown (and not burn).  Season with a little salt and pepper.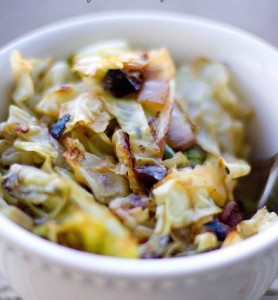 Photo courtesy of Sweet C's Designs
Colcannon is a traditional Irish side dish.  Think Irish "comfort food."  It also includes another Irish food staple–the potato, which is very nutritious.  This recipe calls for adding a bunch of spring onions to the mix, which will add some extra flavor.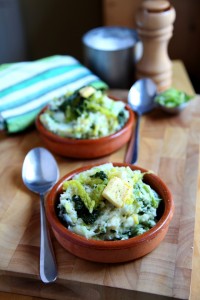 Photo courtesy of Donal Skehan
Cabbage is a versatile veggie–you can add it to soups and stews or shred it into a salad.  Fruits & Veggies–More Matters has their Top 10 Ways to enjoy cabbage (check out their recipe for Cabbage Roll Casserole!).
Enjoy your St. Patrick's Day and I'll be back next week with some talk about "super foods."
See all posts