Calcium is an important part of a healthy diet.  It plays a key role in building strong bones early in life and then keeping those bones strong as one grows older.  A diet deficient in calcium can lead to a common problem, especially among women, osteoporosis.  This is when there is a progressive decrease in bone mass and density, which leads to an increased risk of fracture.  The bottom line is you want to ensure you are getting enough of this important nutrient to keep your bones healthy.

Dairy products are typically what most people think of when they are looking for calcium, but did you know that you can also find calcium in plant-based sources?  It's true–to start, you've probably noticed that many orange juice products have a "calcium fortified" option available.  If you purchase orange juice, it's always best to go with this choice.  Other plant-based options include:

Seeds and nuts like almonds, hazelnuts and pistachios
Spinach
Kale
Collard greens
Turnip greens
Soybeans
Broccoli
Figs
A nice plus about adding these calcium choices to your diet is they also provide a multitude of other vitamins and minerals as well.  For example, along with getting calcium in a serving of spinach, you will also get 70% of your daily requirement of Vitamin A, 25% of your daily requirement of Vitamin C,  20% of your daily requirement of Iron and 5 grams of dietary fiber.  It packs a nutritional "punch."

Here is a great calcium-filled lunch idea, Craisin Salad.  Not only does it have spinach, but it's also topped with almonds, another good calcium source.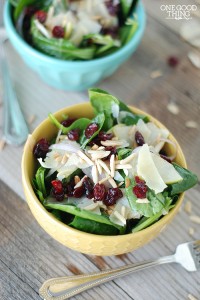 Photo courtesy of One Good Thing

I highly recommend this Easy Broccoli Stir Fry.  Just look at the color of these veggies, plus this is another dish you can add that's entirely vegetarian and there is nothing boring about this meal!  It uses rice noodles so it's gluten free too.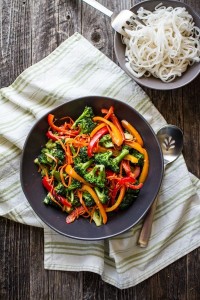 Photo courtesy of Edible Perspective

I hope you enjoy these recipes and explore a few of your own using these fruit and veggies that are good calcium sources.  I'll be back next week with a focus on fiber.

See all posts